AngelList Equity offers three paid tiers. To learn more about each one, visit our pricing page.
Note: Companies that have raised less than $1M can access the Base plan for free.
If you run into issues or have questions, our team is available on business days with a 24-hour turnaround time. For any questions not answered in this guide, feel free to suggest a question.
✉️ E-Mail: startups@angellist.com for your questions.
☎️ Calls: We do not provide support via phone.
🧑🏽‍💻 Demos: We have weekly dashboard demos and deep dives into features. Sign up here.
After submitting your application, you'll receive an email inviting you to your dashboard. In the Onboarding banner, select "Have AngelList do it for you." In the pop-up, click the "Upgrade to Growth Plan" button to securly input your card information in the Stripe payment page.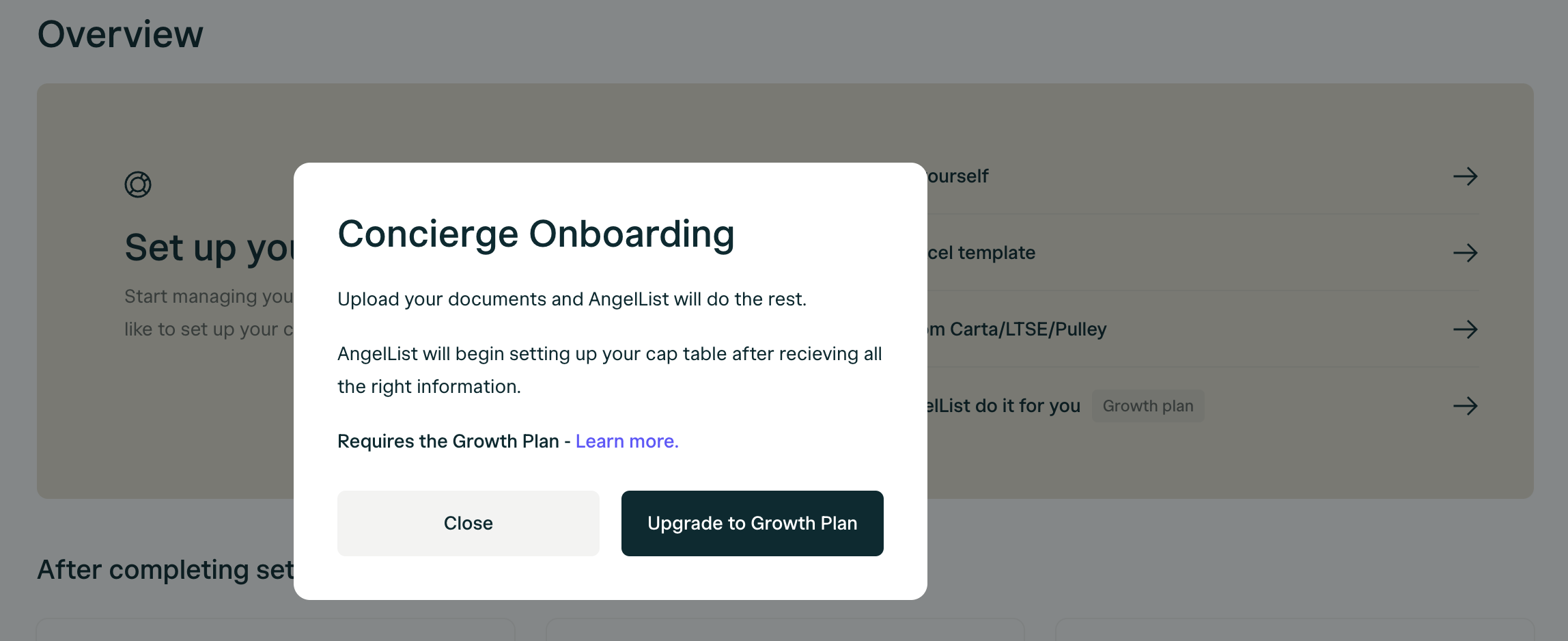 Once you have entered your payment information and upgraded to the Growth plan, you'll be asked to upload all necessary documents. From there, our team will get started on setting up your cap table. For more detail on what you'll need, see below.
Once complete, you'll see the option to schedule an onboarding call with the AngelList team. In the meantime, the AngelList team will set up your cap table, equity plans, and adds any active securities and/or convertibles. We'll invite you to review and approve the cap table once all provided information has been input. If applicable, we can also invite your attorney for review.
Once your cap table has been completed and approved, you're ready to take other actions inside AngelList. We recommend checking out:
This depends on the complexity of your cap table.
Once AngelList has all documents needed, a company with around 25 employees/shareholders without priced round will take around one business day. A company with around 50 employees and one or more priced rounds can take up to three business days.
Historical information allows AngelList to reflect major historical changes such as conversions of notes in priced rounds, share repurchases, and employee stock option exercises/terminations. This historical record will assist you with investor relations, tax preparation, compliance, and any audits.
If your prior cap table software provider is making it hard for you to migrate to AngelList, let us know by emailing startups@angellist.com. We're always happy to help out.
---
Once you've created your AngelList account and logged in, upload all the documents below to Legal > Documents.
At a high level, we'll need equity documents, valuations, shareholder contact information, and additional information.
Original and (if applicable) amended Certificate(s) of Incorporation
Founder Stock Purchase Agreements
Cap table/stock ledger export: We use this to build a comprehensive and accurate view of your company since its inception

Share both a summary by share class and a detailed version by shareholder in an excel or Google Drive sheet

All historical securities transactions, including any canceled/repurchased securities
Historical 409A valuations: we'll add the value of each security if you provide us with the documents for any previous valuations
Historical board-approved Fair Market Values (if not included in the valuation report)
Any non-founder Stock Purchase Agreements
Let us know who is on your team by uploading an excel sheet.
For anyone with equity (employees, advisors, investors), we require their full name (for individuals) or entity name (if a company), title, and work and personal emails. Personal email helps AngelList manage your stakeholders if they are ever terminated and hold equity in your company.
Note: No emails are sent to your stakeholders during the onboarding process. You have the option of sending emails to them after onboarding is complete, but it is not required. Inviting them allows your shareholders to see their holdings in a personal dashboard.
These documents are optional, but help us make sure we have complete information when setting up your cap table and issuing securities. If your company has any of the following, please send them to us in PDF format:
Board-approved stock option plan document
Option agreement and exercise forms
Option pool history with board approval dates and total option pool shares
List of unexercised warrants
List of unconverted convertible notes and SAFEs
Option agreement form or template
Exercise notice form or template
Warrant form or template
Convertible note form or template
Termination dates from HR or payroll system
Board approval documents for fundraises
Equity Plan documents
Board approval for the Equity Plan
Form of Board Consent for Stock/Option Issuance
Form of option agreement (also known as a "template")
Form of exercise notice (also known as a "template")
Individual grants and vesting schedules
Board approval documents for each grant
Warrants Form of warrants (also known as a "template")
---
If you're ready to move forward with Concierge Onboarding, sign up at angellist.com/equity and choose "Concierge Onboarding" as your onboarding method.