A 409A valuation is an appraisal of the fair market value (FMV) of the common stock of a private company by an independent third party. Startups typically pay for these assessments and then use the findings to inform the price at which employees can purchase shares of the company's common stock. This article explains more.
The AngelList Build Growth Plan includes one 409A valuation per billing cycle. Once you've paid for your subscription, getting started is simple - navigate to Equity > Valuations, click Add, select Request New Valuation, and complete the form.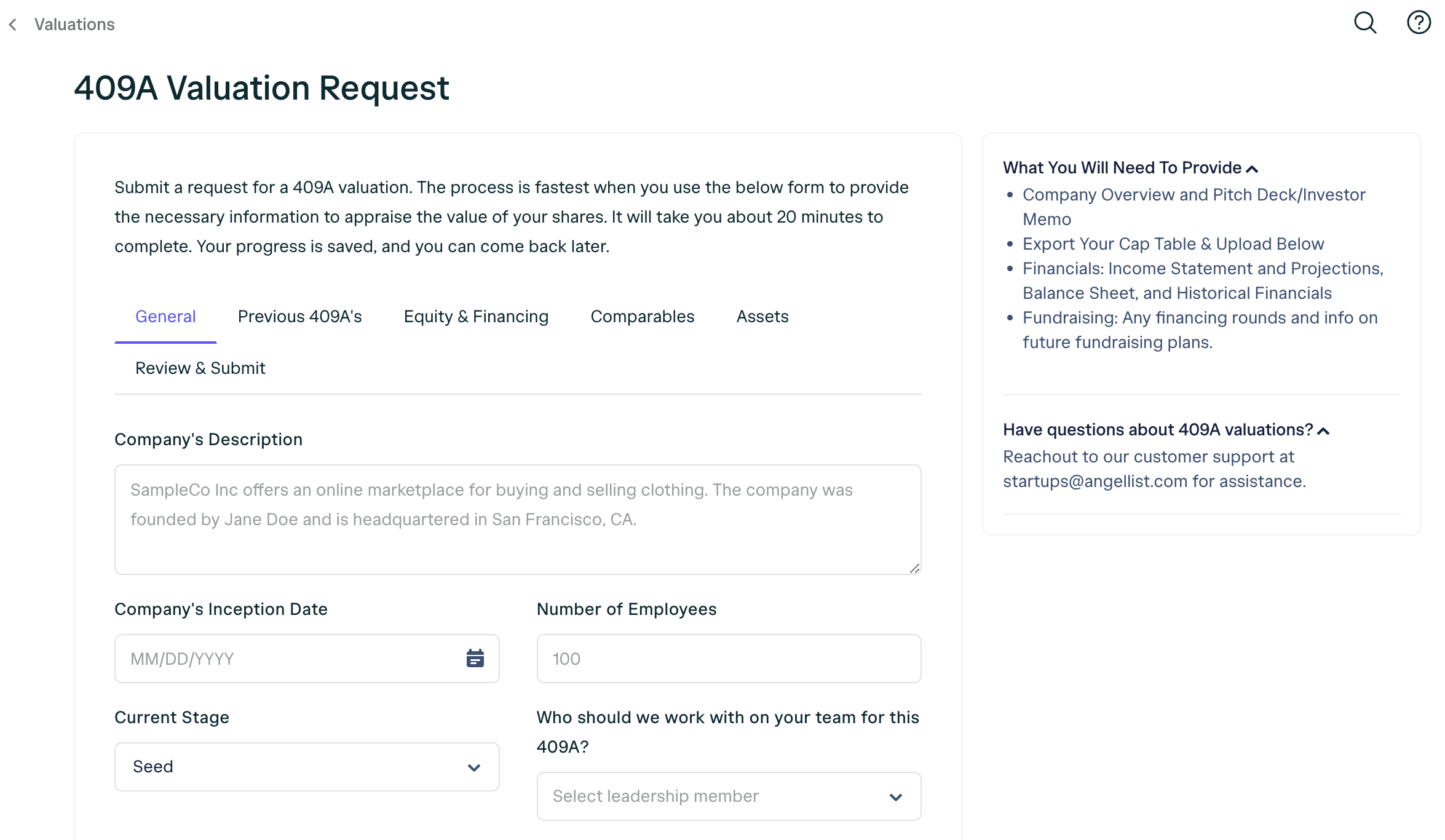 If you have already connected your payroll or HRIS system to AngelList, you can submit your 409A request without inputting compensation details into the 409A request form.
Submitting your 409A request initiates the process, and our team will reach out with next steps.
Once you request a 409A valuation through the platform, you'll be connected to our valuation partners.
The exact timeline for completing the report depends on the complexity of your cap table and business operations.
Typical data used in generating a 409A includes cap table details, historic and projected financial statements, an overview of business operations in order to determine public sector comparables, potential liquidity timeline, and other qualitative information about your company's past performance and outlook.
AngelList's Growth Plan includes one 409A valuation per billing cycle. You can view pricing for the Growth Plan here.
You should consider getting a 409A valuation when your company issues stock options or other equity-based compensation to employees or service providers.
The IRS requires a 409A valuation to determine the fair market value of the company's common stock for tax purposes. It is typically recommended to obtain a 409A valuation at least once every 12 months or whenever there is a significant event that could impact the value of the company, such as a fundraising round or a material change in the business.
It's important to consult with a determine the appropriate timing for obtaining a 409A valuation for your specific situation.
---
Navigate to Equity > Valuations, click Add, and select Add Previous Valuation.
Fill out the form with the necessary information and upload the valuations documentation.