Navigate to Raise > Overview. If this is your first round with AngelList Raise, click Get Started.

Once in the Overview page, you can Setup Banking via the purple banner (if you haven't already done so) or start a round by clicking Add Round.

Once you've clicked Add Round, you can choose to raise via a new round or via a Roll Up Vehicle (RUV). For help with your RUV, click here. If raising via a new round, answer each question in the flow to get setup.
On the last page, you'll have the option of uploading a pitch deck if you don't want to send it via a Data Room. Finally, you'll connect a bank account. Note - connecting your AngelList Banking account will allow Raise to track and automatically mark funds as completed. If you choose to connect an external account, you'll need to manually mark funds as received as they hit your account.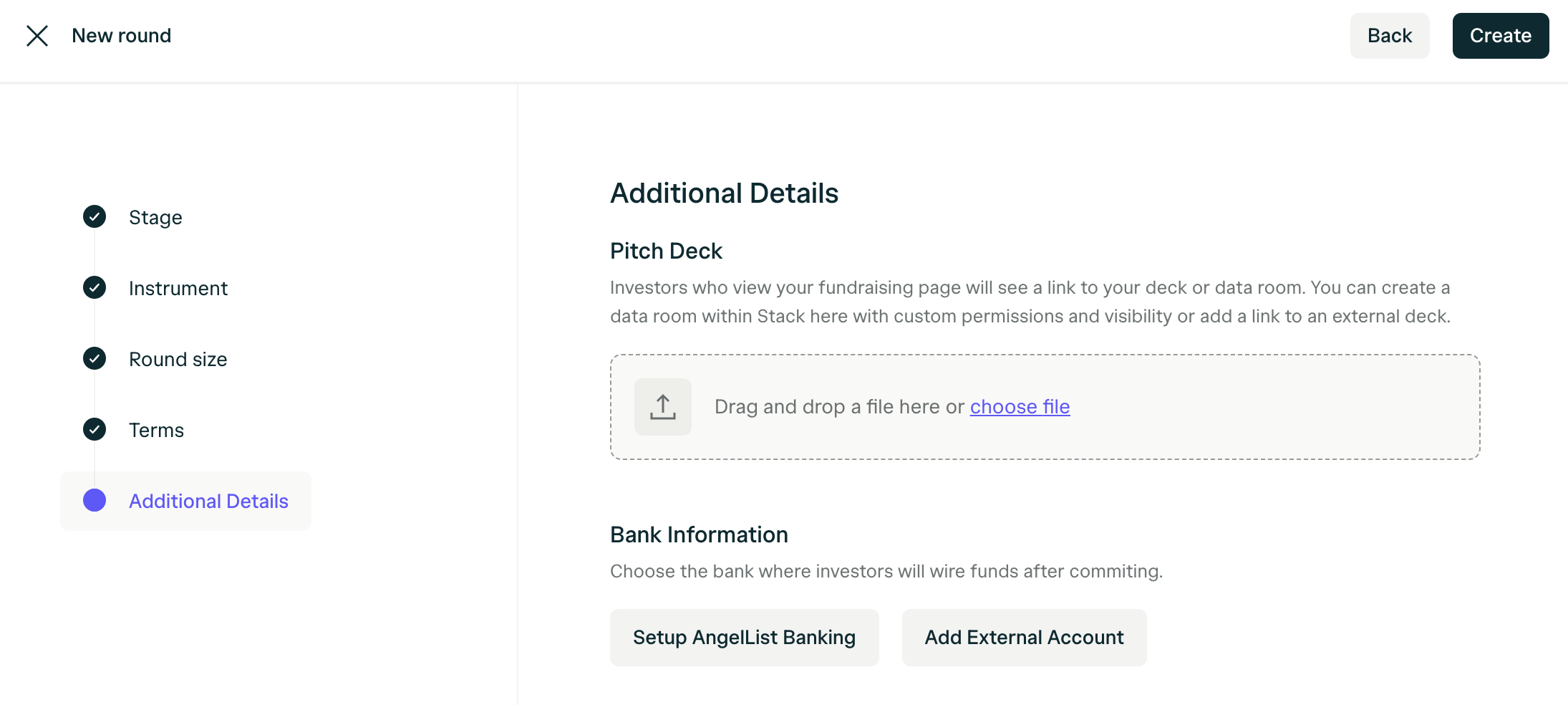 Once your round is created, you'll be able to see all details by clicking into it. From that page, you can invite investors by clicking the Invite button on the top right.
You can them click the copy icon to copy the URL and send it directly to investors.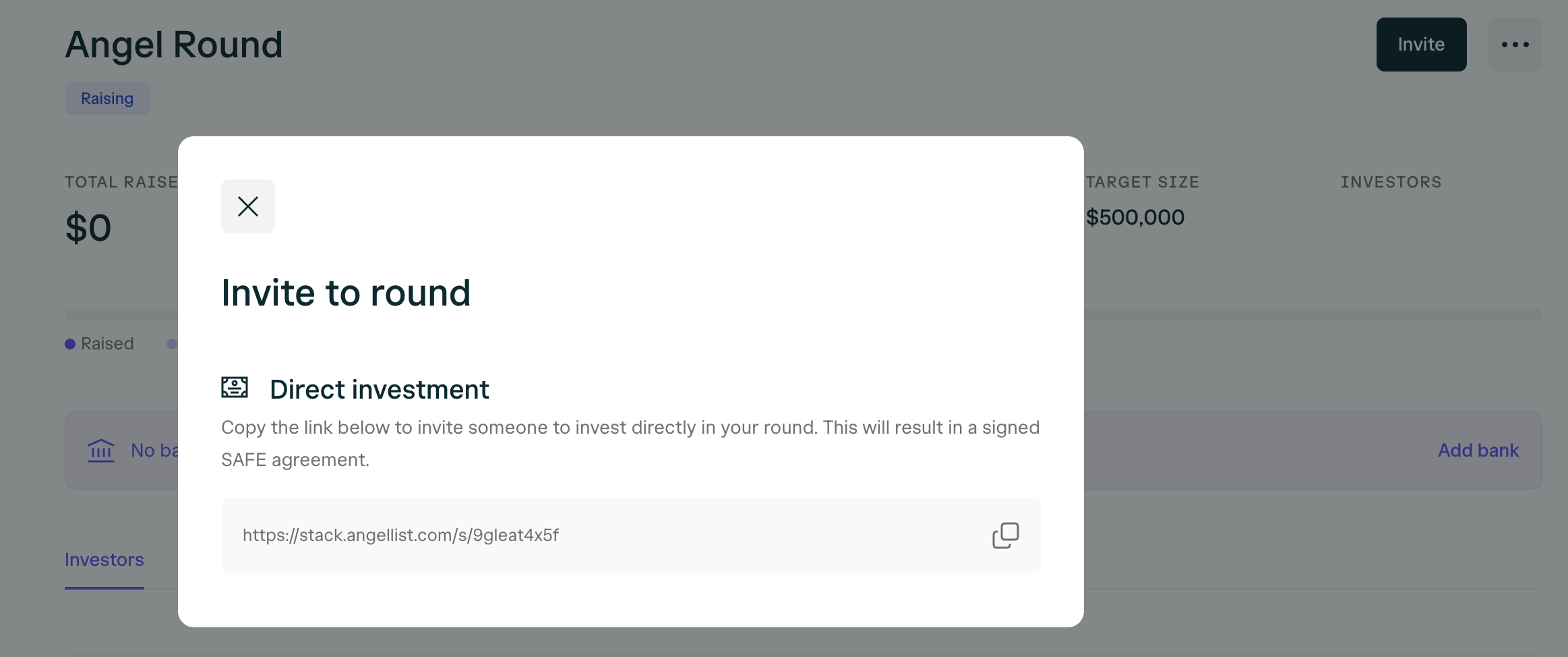 To reflect an already signed SAFE as part of your round, you must first add the stakeholder. Once they've been added, click Add offline commitment from the round dashboard, fill out the required information, and upload the SAFE document. Note - no new investment document will be generated and no notification will be sent to the investor.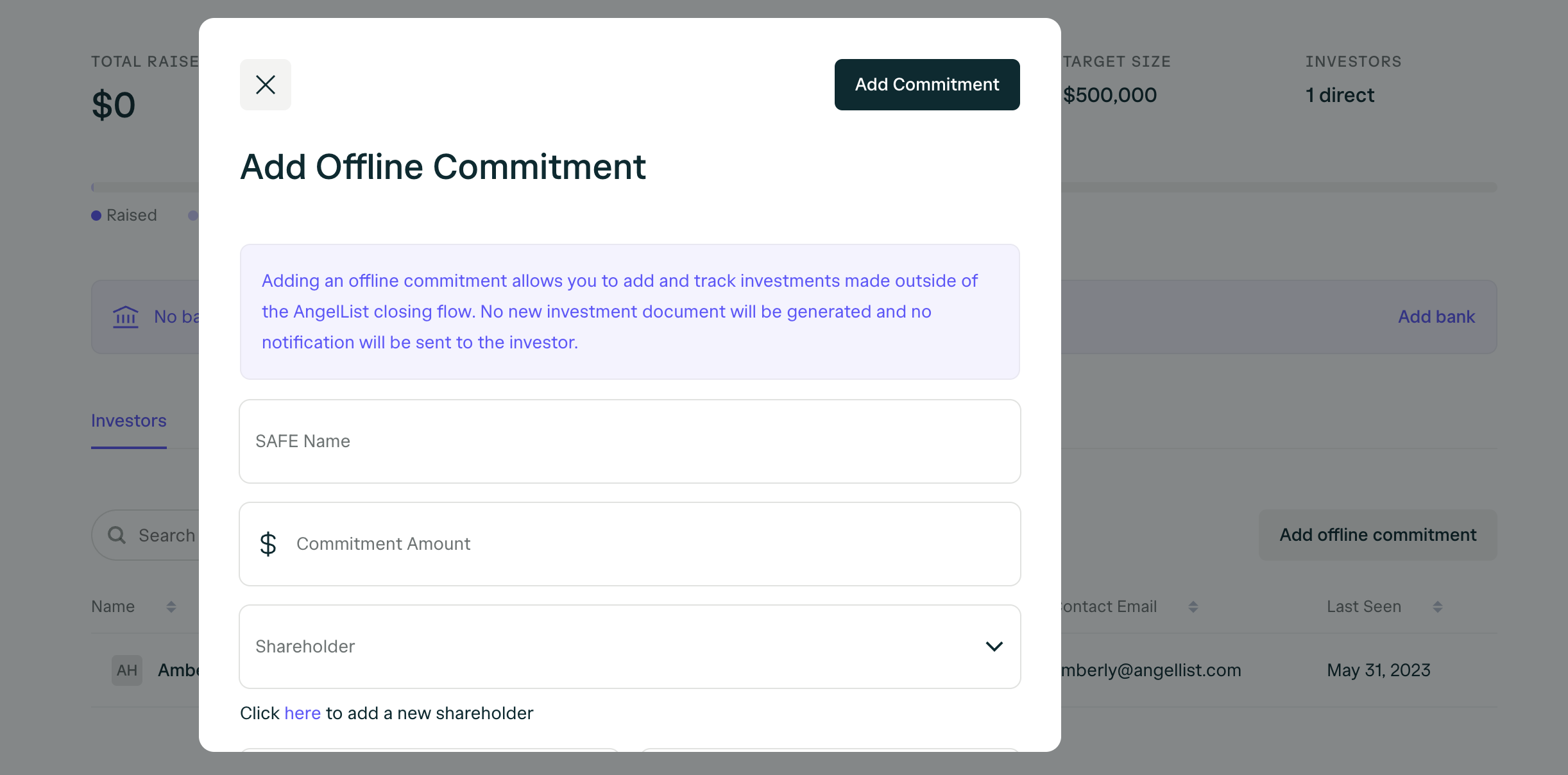 ---
AngelList does not file Form D on your behalf when you close a SAFE through AngelList.
Our SAFE does not include pro rata rights by default. On our fundraising tool, if you indicate that the fundraising round has pro rata rights for everyone, then our SAFE tool will automatically generate the Pro Rata Side Letter alongside it. If you've already executed the SAFE and intend to give pro-rata rights, then, you should sign a pro-rata side letter with the investor(s).
The SAFEs used in the AngelList signing tool are standard YC SAFEs, which can't be edited.
If you need to include terms in the SAFE that differ from the template version, we suggest signing a SAFE off-platform and uploading the document using the instructions here.
Alternatively, you can sign a standard SAFE on AngelList and draw up custom side letters for your investors. AngelList doesn't have a template for side letters, but we can introduce you to lawyers who can help draw this up.
---
When investors click on the Invite link they will be taken through a closing flow so they can commit and fund their investment.
First, they will be invited to login to their AngelList account or create a new account.

Once logged in, they will see the details of the round and will be able to enter the amount they'd like to commit. Note - during the creation of the round, you can specify if you'd like to have a minimum investment amount.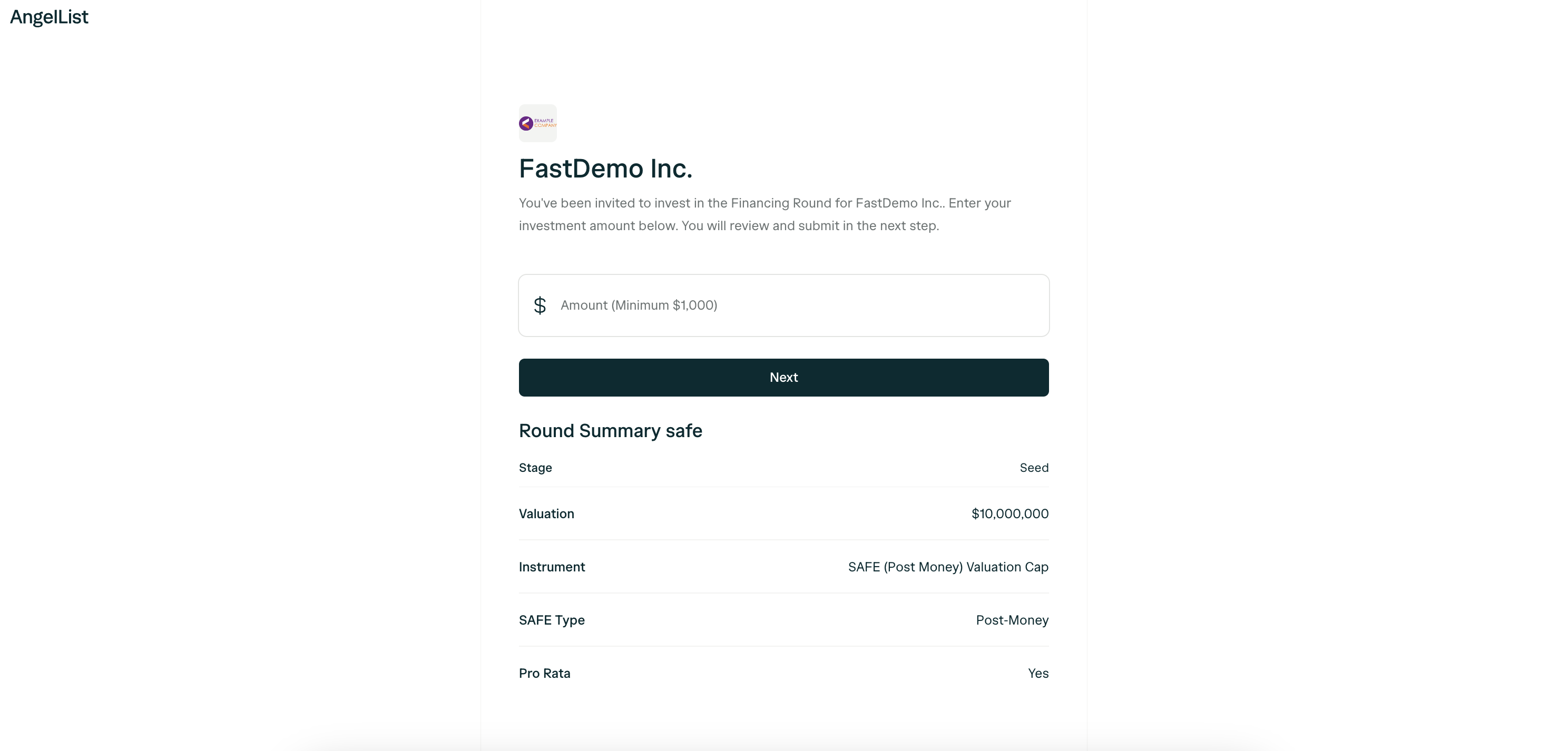 After clicking Next, they will be able to download and review the SAFE prior to e-signing.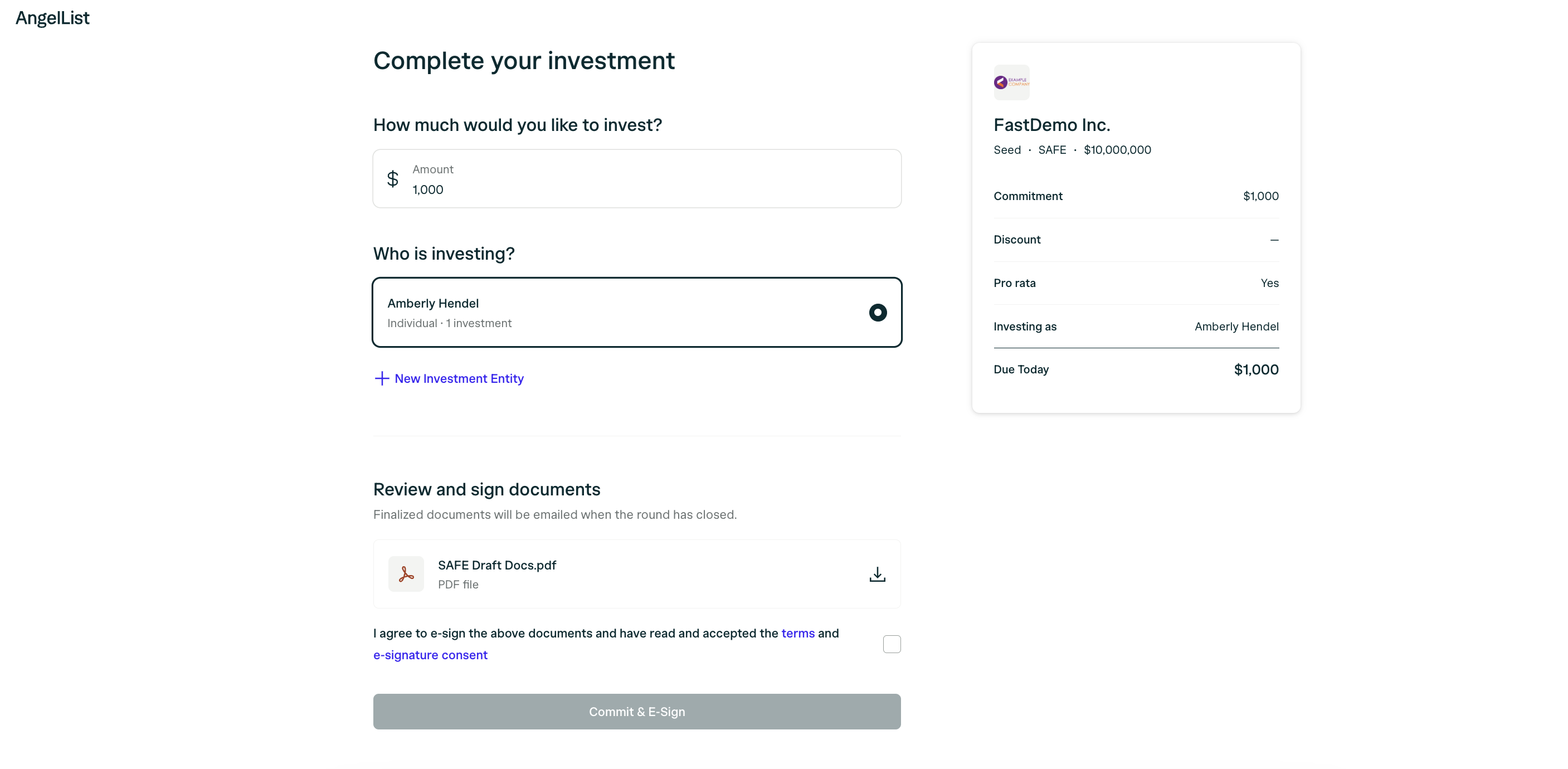 Finally, they will be given wire/ACH instructions for the bank account of your choice so they can send the funds right away and have the ability to download the closing documents.
Once the investor commits to the round, you will see the status of their commitment on your Dashboard.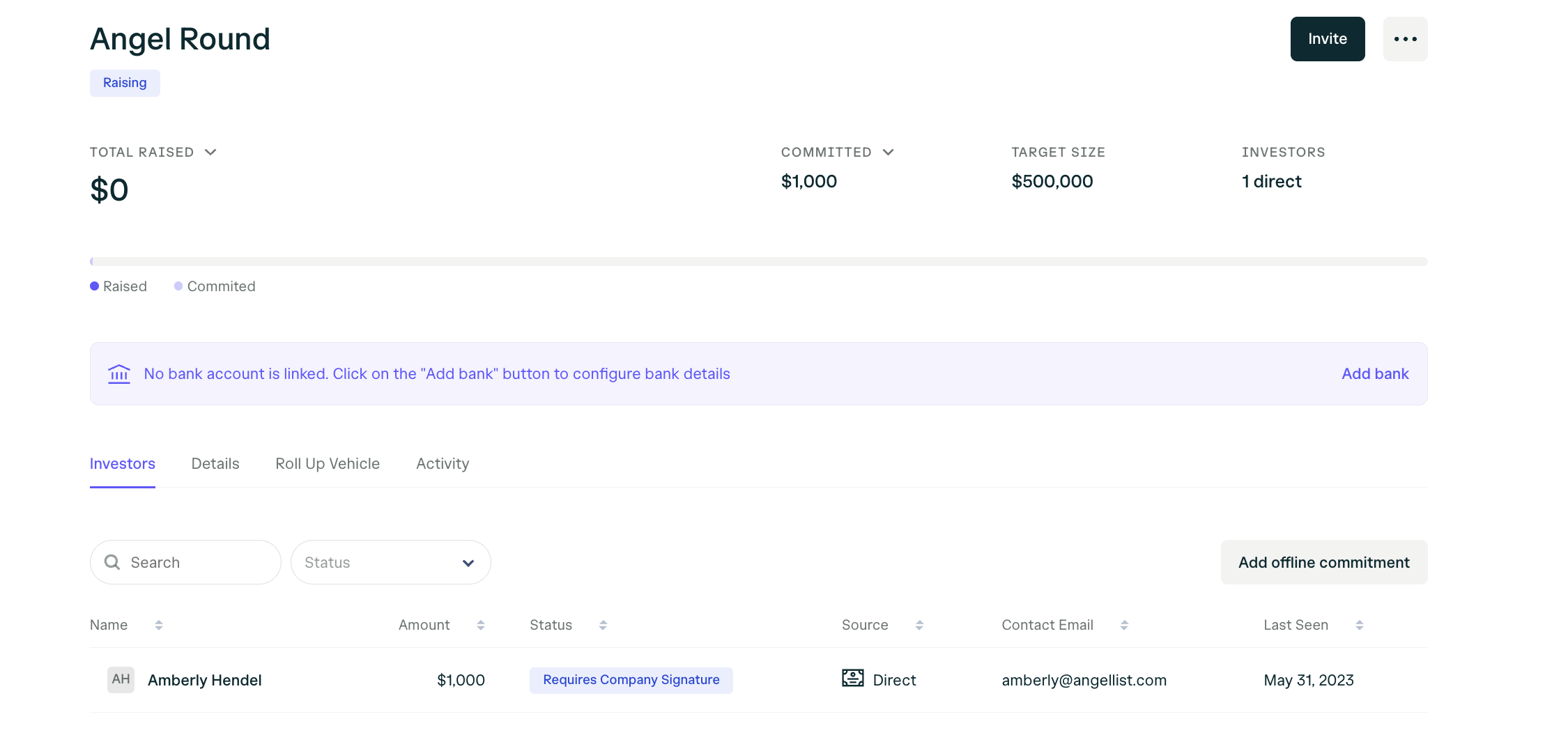 You can click into each investor to get a detailed view of the specific commitment, next steps, and an activity log.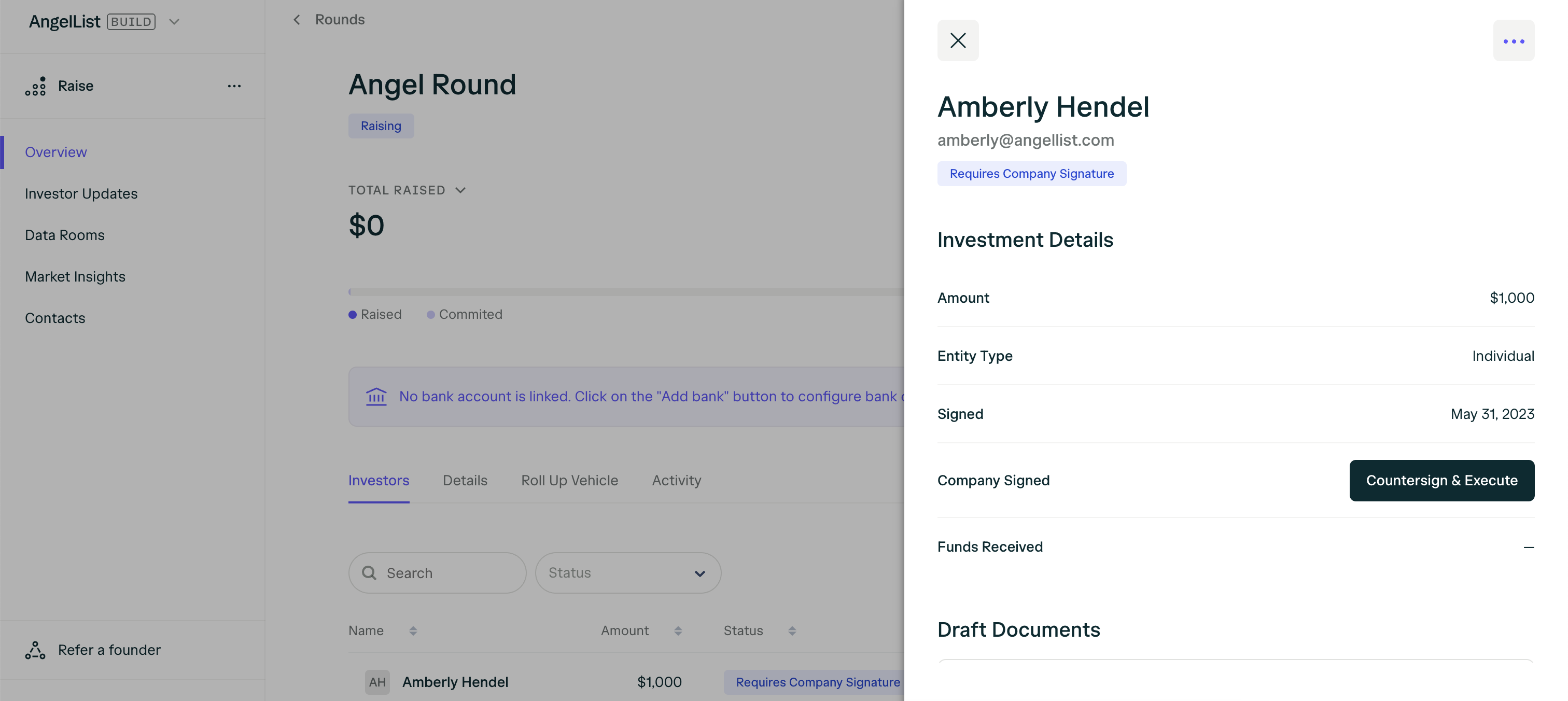 Once investors sign the SAFE and you've received the funds, you will be able to countersign. Select the investment that needs company signature and click the Countersign & Execute button. Fill out the required information and click Sign & Send Notification.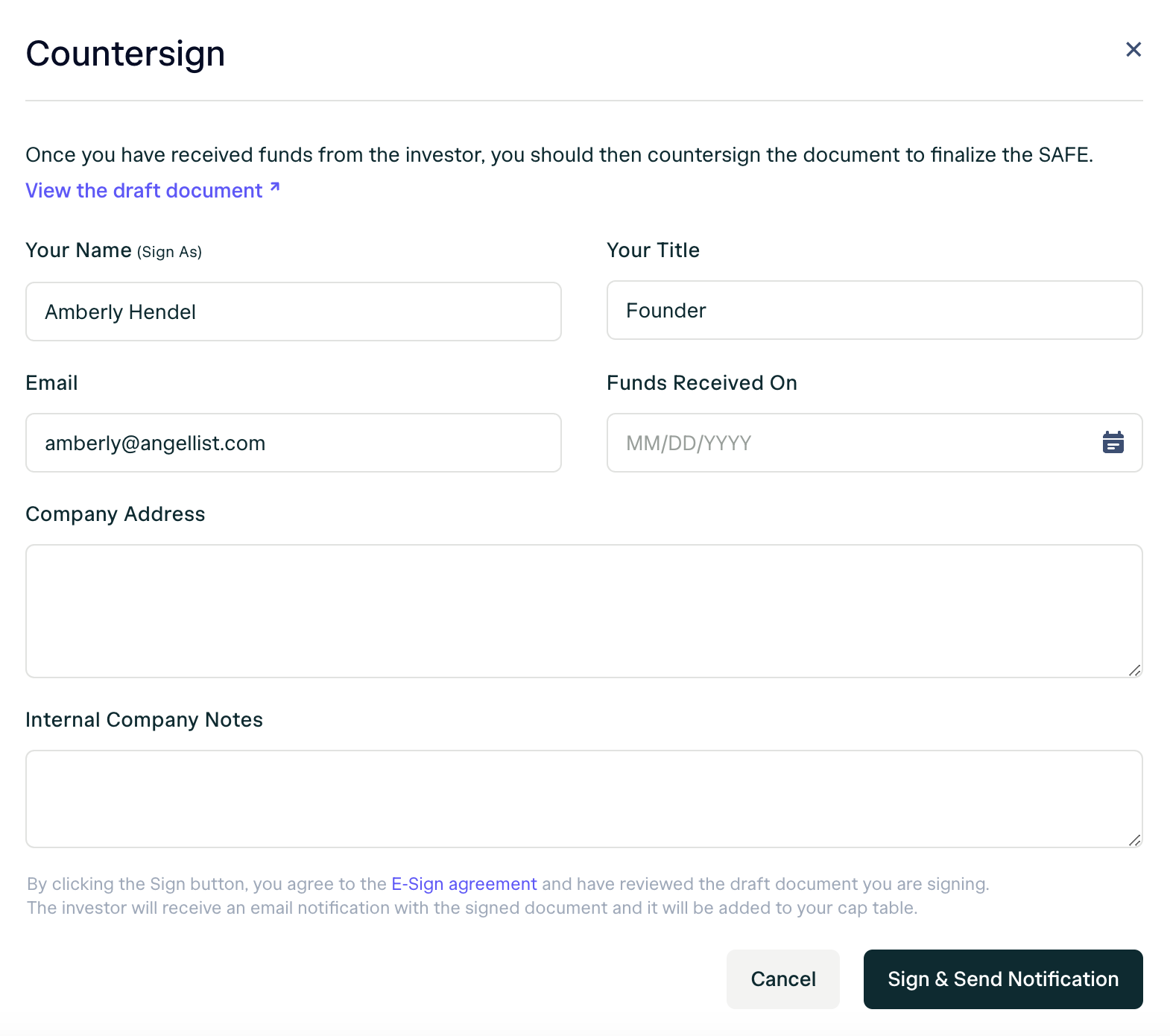 You can view your SAFE by clicking on the on specific investment within the Raise round and scrolling down to Executed Documents. Alternatively, you can navigate to Equity > Securities > Convertibles to see a full list of your SAFEs. Select the one you'd like to see and go to the Documents tab to download a copy.
Yes - all investors that commit to the round will be added to your cap table. If you want to keep your cap table clean, you can raise funds through an RUV or use Rollups to retroactively clean up your cap table.
---
You can add an RUV after creating the round by clicking Roll Up Vehicle from within the round's dashboard. Click the Setup RUV button and fill out the necessary information.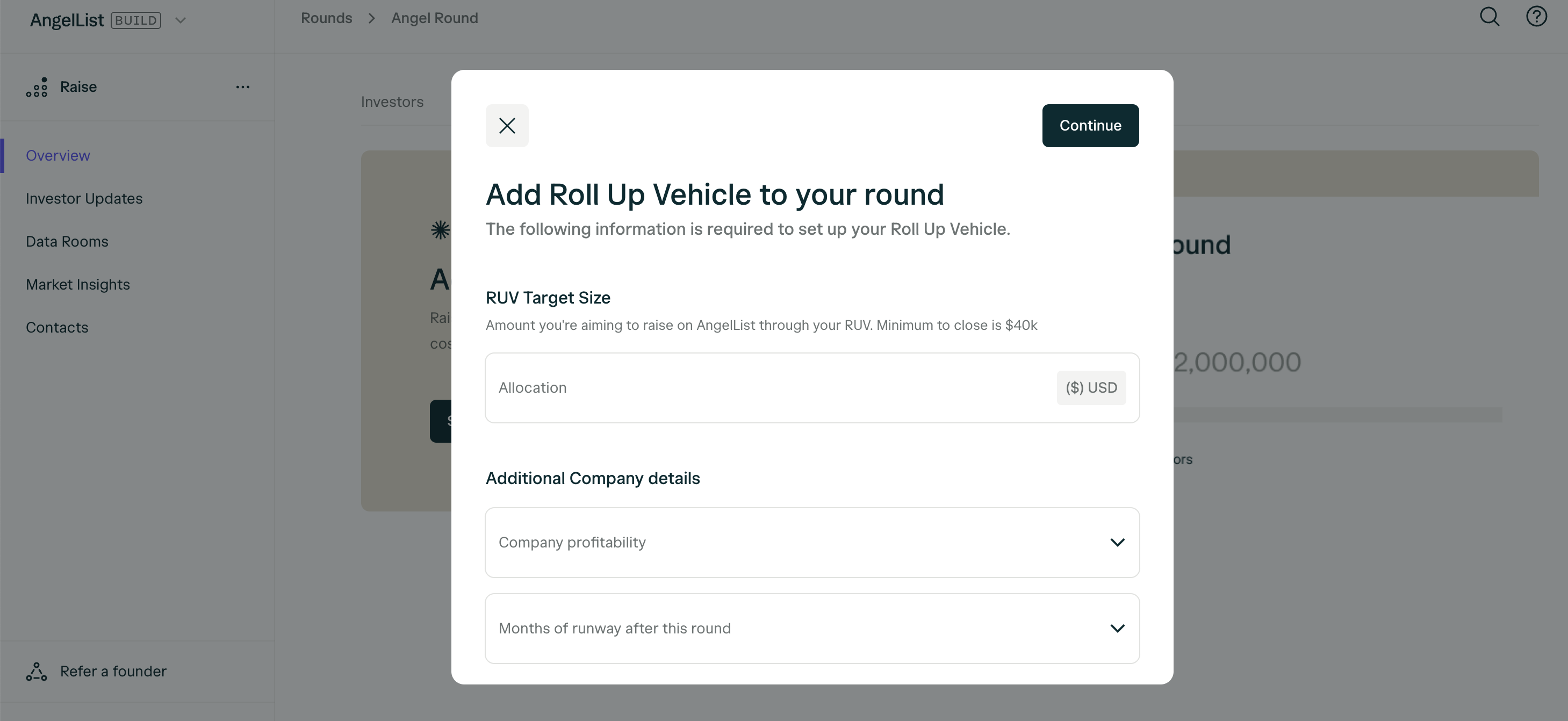 If you already have an RUV, reach out to rollups@angel.co and we will connect it to the round for you.
AngelList doesn't have a tool for signing token warrants or other crypto investment instruments.
AngelList currently supports SAFE generation and signing. Convertible note signing is not supported on the platform.
If you sign a convertible note, you can upload it to AngelList for tracking in your cap table and your investors can still access an investor dashboard. To learn how to add an offline commitment to your round, click here.