RUVs are SPVs that allow founders to consolidate multiple angels into a single entity that then signs the investment documents and sends a single wire to the company. It saves founders (and you) the hassle of collecting funds and signatures from many individuals. AngelList handles the entity formation, collection of funds, and post-investment management.
Investors often say that investing through RUVs is significantly easier than making direct investments. RUVs allow investors to complete their commitment within minutes and fund their commitment over ACH.
The cost of the RUV is generally paid for by the company, so investors often incur no additional costs for the RUV administration itself.
If the company is paying for the fees, the breakeven point is around seven investors. We find that companies often save tens of thousands dollars when they do the math on cap table costs and future cap table cleanliness. More importantly, they have a cleaner cap table, which positions them better for future fundraises or M&A transactions. Our estimations, suggest that a seed stage company that is considering using a RUV for 45 angels will save $75,000 over the lifetime of the company (when compared to the costs of allowing 45 direct investments).
Generally, yes, the benefits of QSBS flows through when investing in a RUV. RUVs are Delaware Limited Partnerships which are pass through entities.
In most cases, no. RUVs will generally only issue K-1s when there is taxable activity (such as distributions or interest). If applicable, K-1s will be posted to your AngelList dashboard and your email.
Here's the sequence of steps that you will go through when investing in the RUV.
If you do not have an AngelList Account, you will have the option to create an account or you can log in to an existing account.

Once logged in, you will need to confirm that you are an accredited investor.

You will then be taken to a page where you can review the terms of the round, download a copy of the Closing docs, make your commitment, see the co-investor list, and review the memo or pitch deck.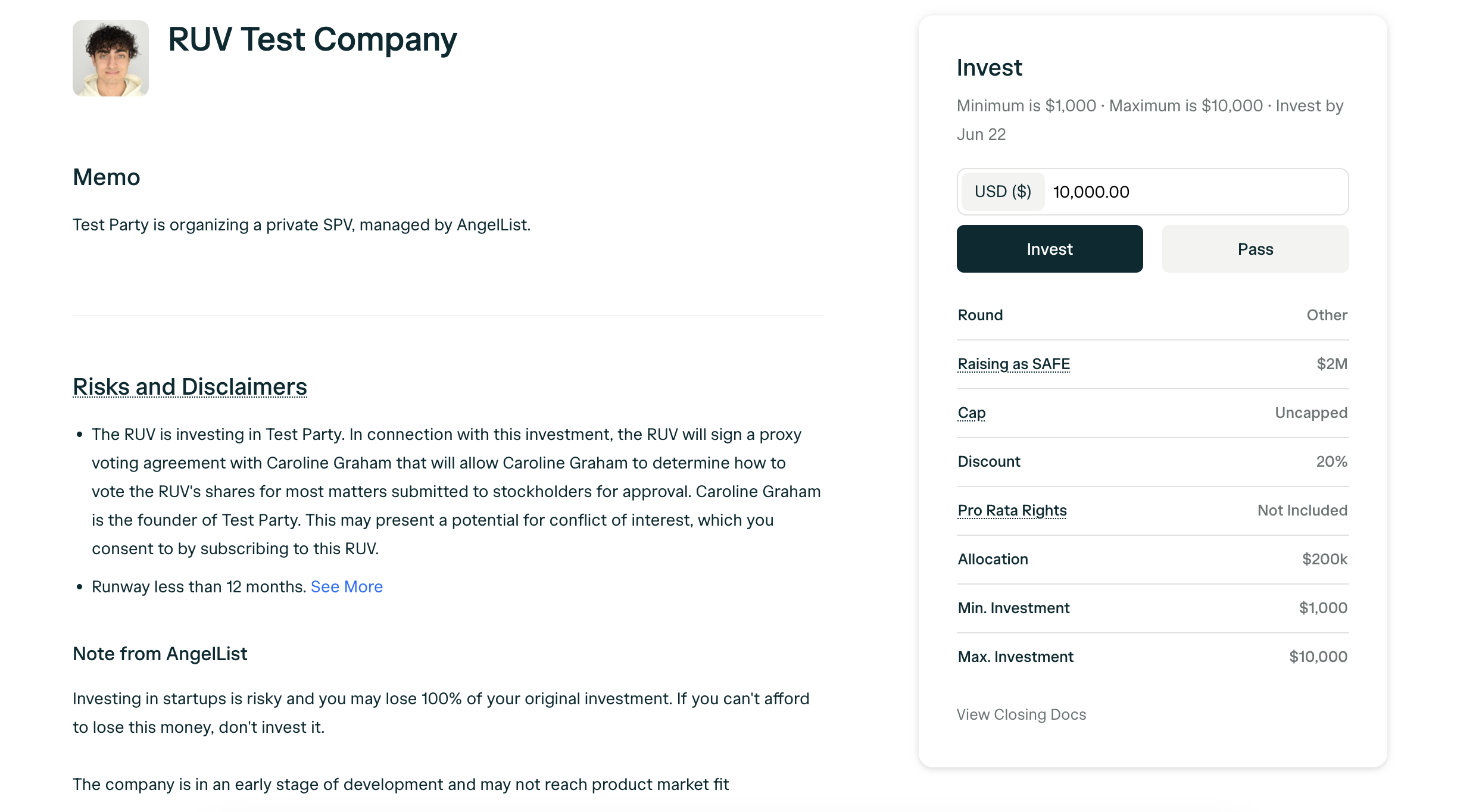 Once you click Invest, you will be able to review the investment details and be given banking information to process the wire.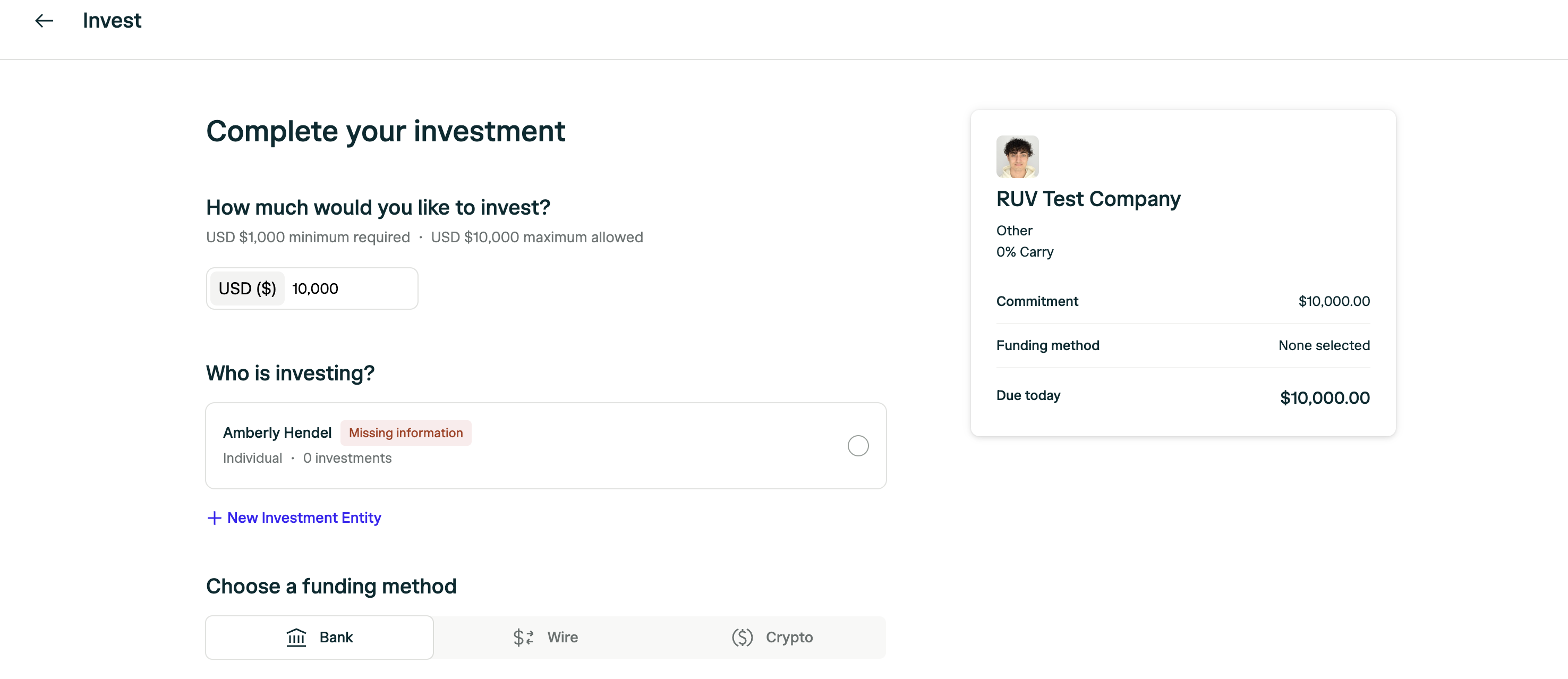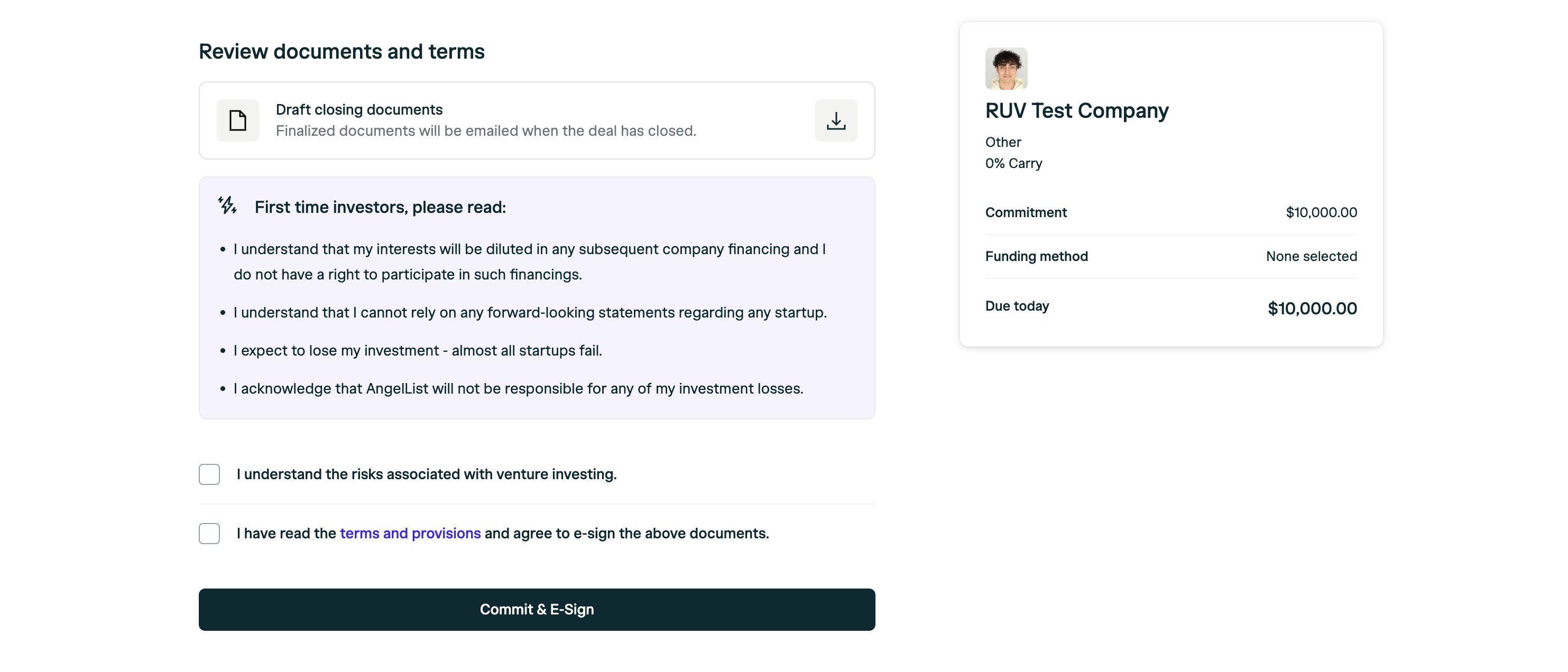 Once you Commit & E-sign, you will be taken to the next steps page where you will be have access to the wire instructions and will be asked to verify KYC and submit tax information.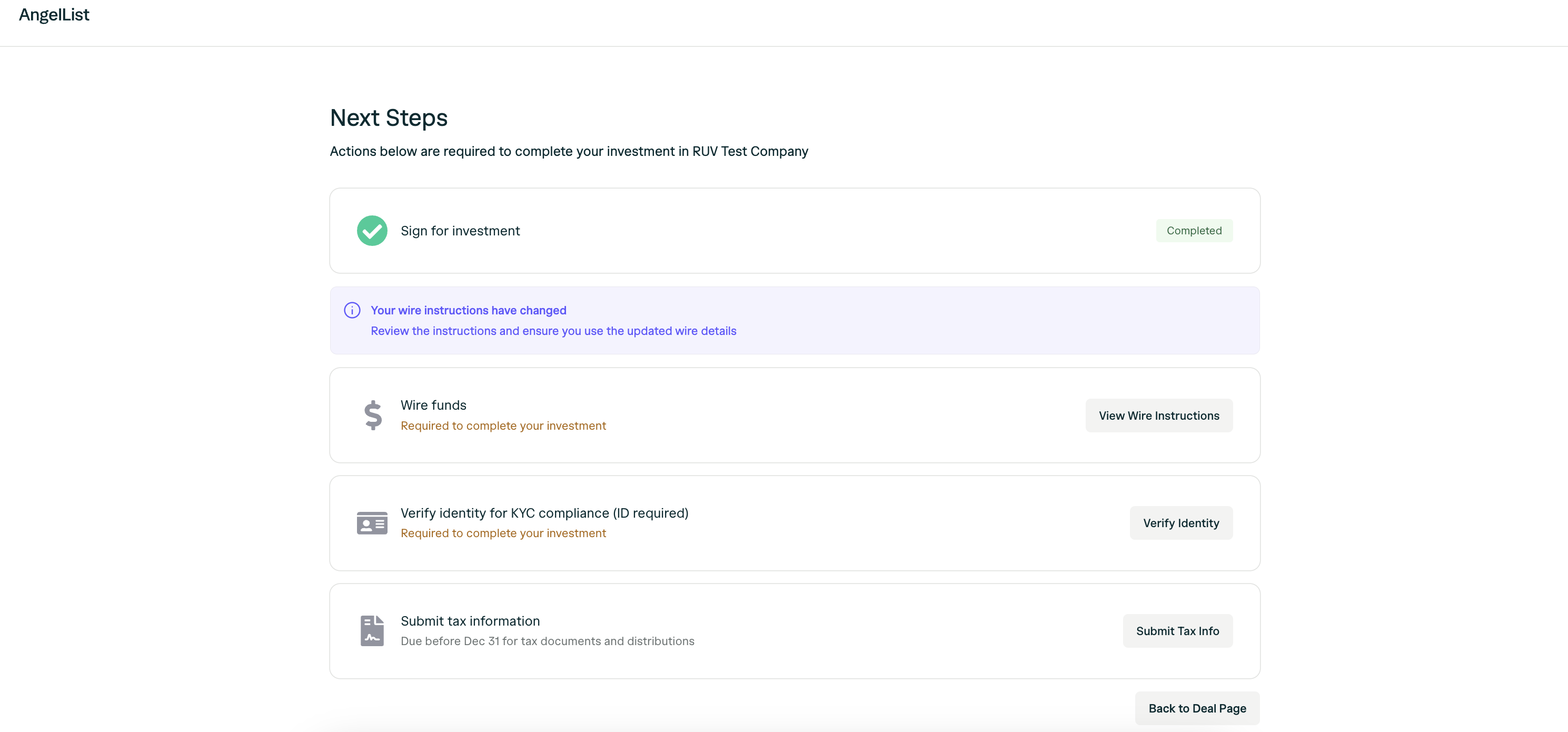 You will also receive an email confirmation.

You do not sign the actual investment docs (like a share purchase agreement or a SAFE), instead by closing online, you are subscribing to the special purpose vehicle which is the entity that will sign the actual investment docs with the company (See the docs attached below).
AngelList will review the documents to ensure the terms match what you described to investors before signing the documents.
While all investors need to be accredited, you do not need to provide documents to AngelList to verify their accreditation status when investing in private RUVs. You will be asked to verify your accreditation status with documentation when investing in RUVs that are marketed publicly or funds that are marketed publicly such as Rolling Funds.
Once you complete the commitment flow, we automatically attempt to initiate the KYC process (Know your Customer). To complete the process, we need verify your identity using the information you provide (name, address, date of birth) -- we are required by law to perform these checks.
If you are investing with an entity that fails the automatic checks, our KYC team will follow up over email asking for additional information.
To increase your commitment before the RUV is closed, you may email us at invest@angellist.com.
No, we do not share the financing documents. However, you can reach out to the company to request a copy of the document the RUV signed.