A stakeholder (or shareholder) is a person or entity that has equity in your company. This includes founders, employees, advisors, and investors.
AngelList enables your investors and employees to log in and see their holdings. They will not be able to see the company's cap table or any admin-level information or features.
You have the option of providing them access to their fully diluted ownership percentage and certain value information if you would like. Admins can manage these settings in the company dashboard.

To preview what they will see, navigate to Equity > Stakeholders and select the individual you'd like to see the dashboard of. For Service Providers, click Actions and select Preview Employee Dashboard. For Shareholders (both individual and institution, click Preview Dashboard. This gives you view and limited edit access to the shareholder's dashboard for your company. You cannot see securities that this shareholder may hold for other AngelList companies.

---
Learn how to add a new Stakeholder here. Note - you can always edit the shareholder information you add.
Service Providers are employees/advisors/etc that are receiving option grants. Those receiving shares are Shareholders.
Navigate to the individual's detail page and click the edit pencil next to the Login Email. Replace the email address, then click save.
If a stakeholder has ever held equity/options or invested in the company, then you can not delete the stakeholder. It is important that you maintain an accurate historical ledger of your cap table.
If the stakeholder has never had any holdings, then they can be deleted by visiting the Stakeholder table, and clicking edit.
For individuals, it's best to use a personal email address. That way, if they have holdings and leave the company, they can still easily access their holdings without any further changes.
For institutions, such as investment firms, it's best to use their work email address. That way, investors with work email addresses will be able to view their investment in their fund account, not their personal account.
When you issue new stock, stakeholders will automatically get an email. If you want to invite them to view their dashboards without issuing new stock, you can do that by navigating to Equity > Stakeholders and selecting the stakeholders you would like to invite. Click Bulk Actions and select Invite Stakeholders.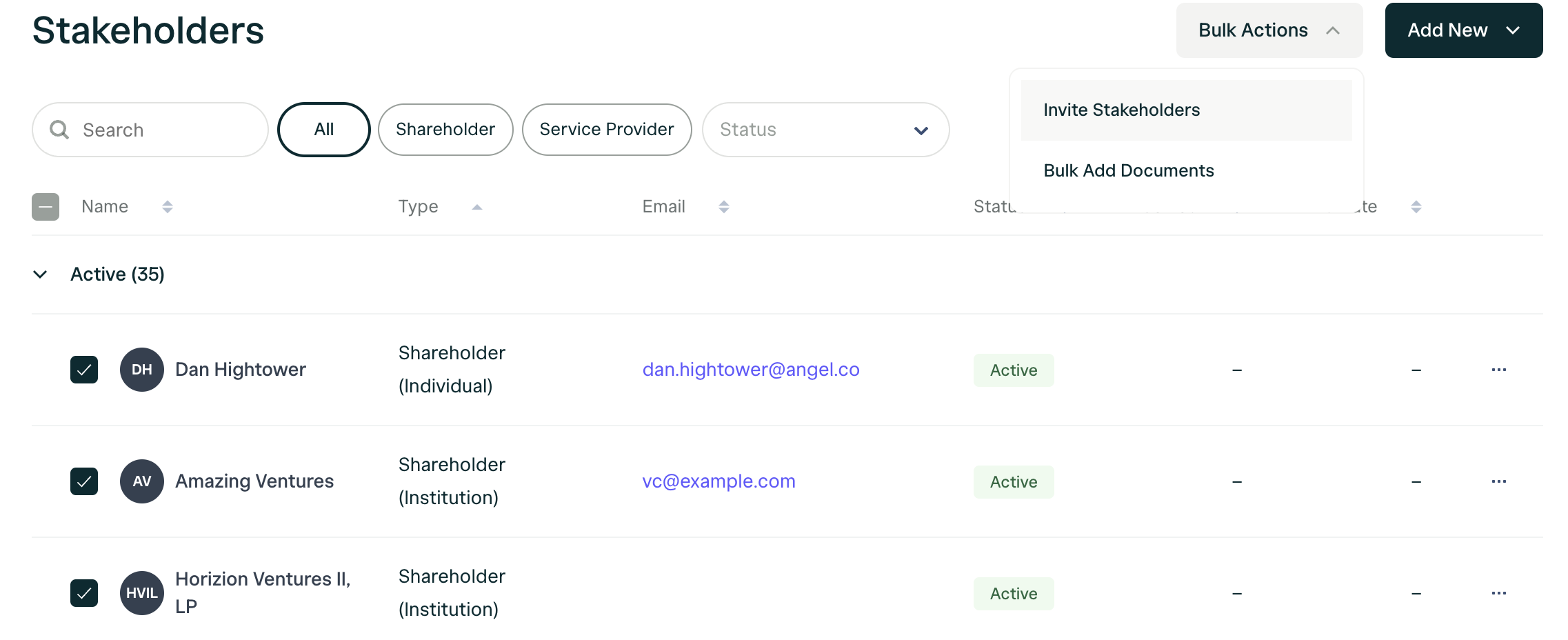 Alternatively, you can direct them to stack.angellist.com/login and provide them with their login email address.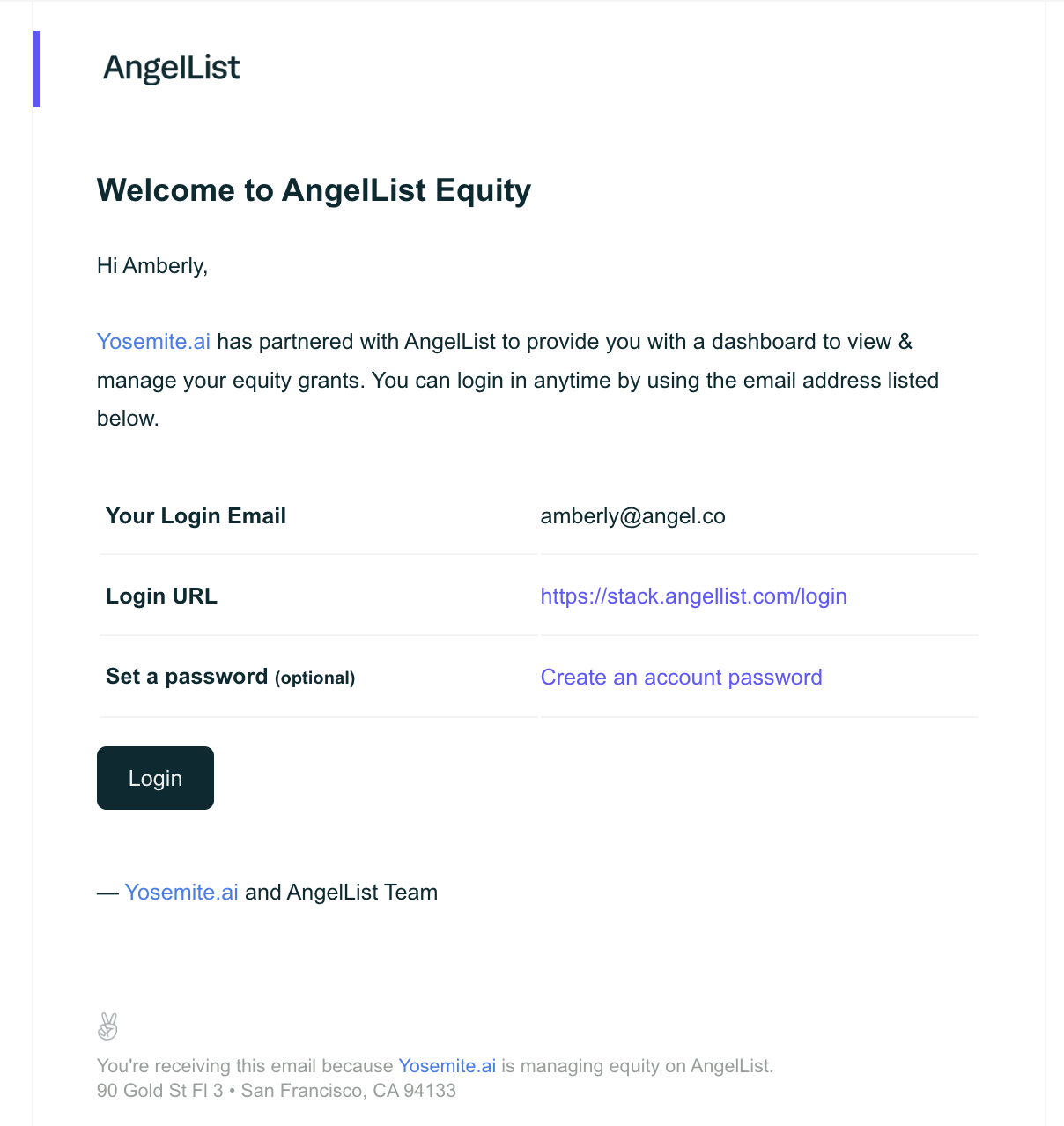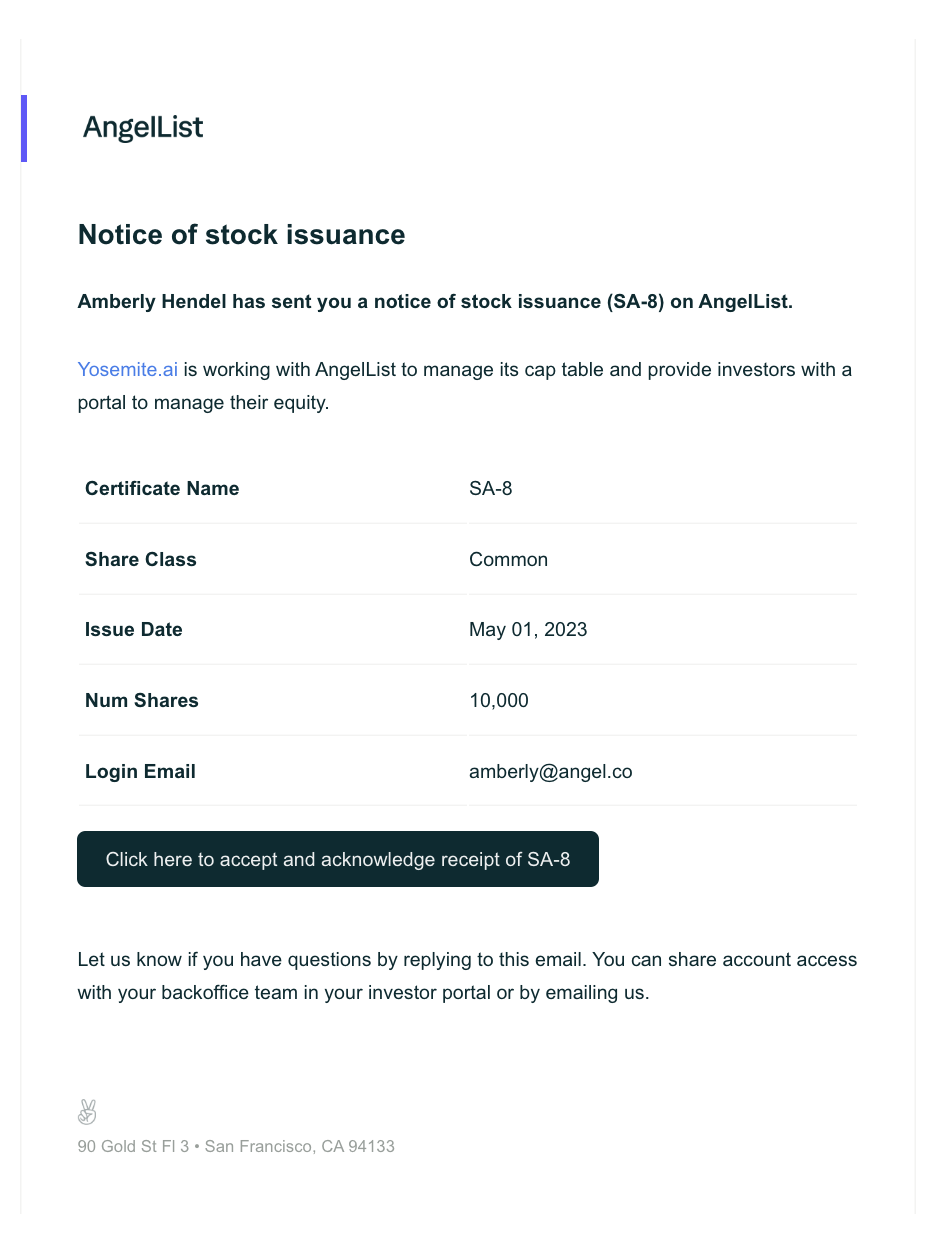 ---
If your stakeholder has investment advisors, partners, or others who need to have visibility on their dashboard, you can grant them access to the stakeholder dashboard. Navigate to Equity > Stakeholders, select the stakeholder, and click Preview Dashboard. Once in the dashboard, use the menu to navigate to Account Access > Share Access with Others. Click Add New User to provide access.

You'll be able to select the appropriate permission level for each user.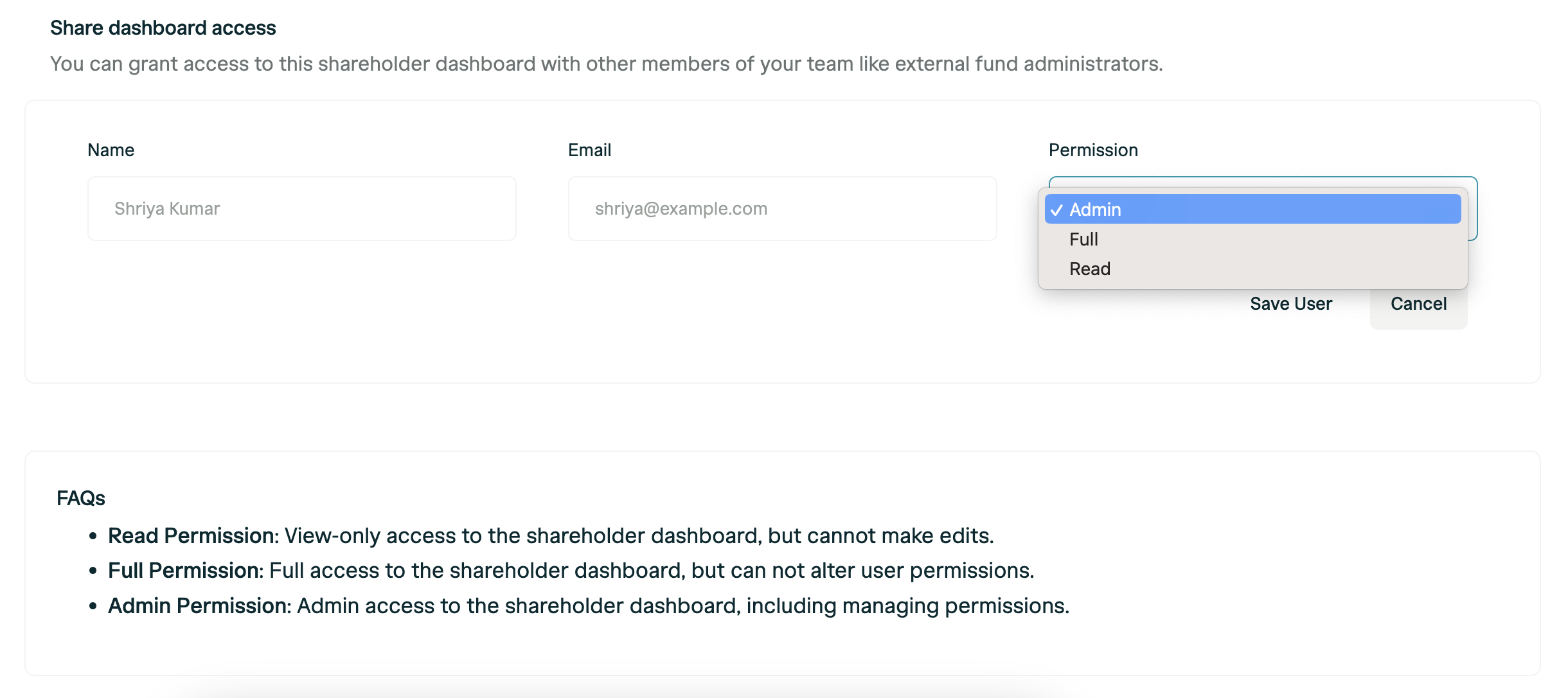 You can get a spreadsheet of all stakeholders by navigating to Equity > Reports. Scroll down to Other Reports and click Stakeholder Contact Details.