The stakeholder experience happens in the Stakeholder Dashboard. All holdings (convertible notes, shares, transfers, etc) from all of a stakeholder's companies that are on AngelList are available in the dashboard. For stakeholders with holdings in multiple companies, using the same email address (personal or fund) will ensure all equity is easily accessible using the same login.
If some of holdings are not showing, it is likely due to multiple security types or having multiple logins. To merge them, contact startups@angellist.com.
Stakeholders of companies using AngelList need to sign in to accept and manage their equity. Complete the steps below to access your AngelList Stakeholder Dashboard.
Once companies on AngelList invite stakeholders, they will receive an email invite.
For stakeholders with previously issued securities, clicking "Click here to login" will take them to a login page.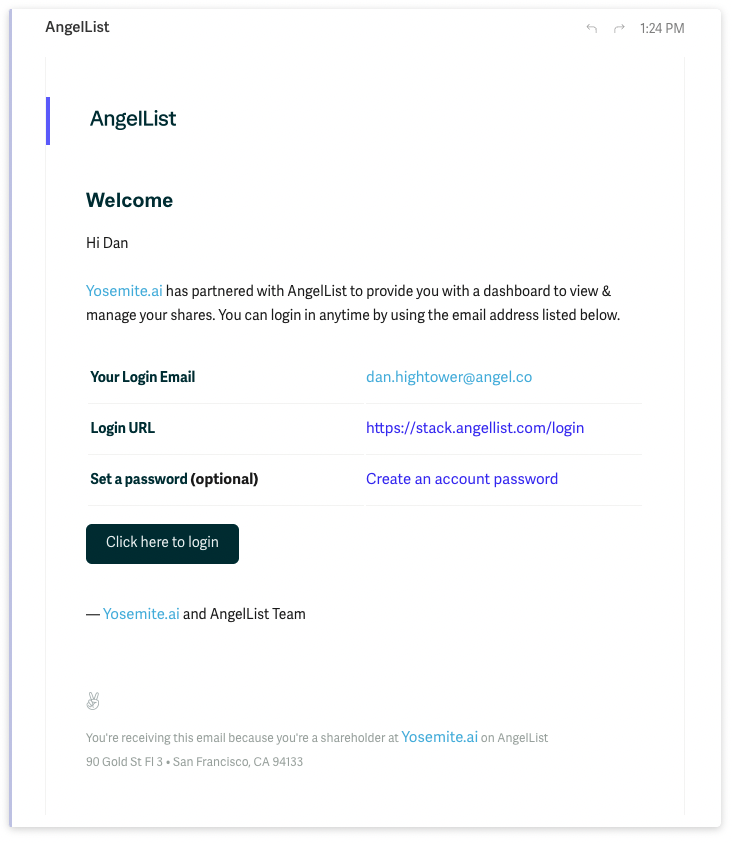 For stakeholders with new securities to accept, clicking "Accept and acknowledge receipt of [security name]" will take them to a security acceptance page.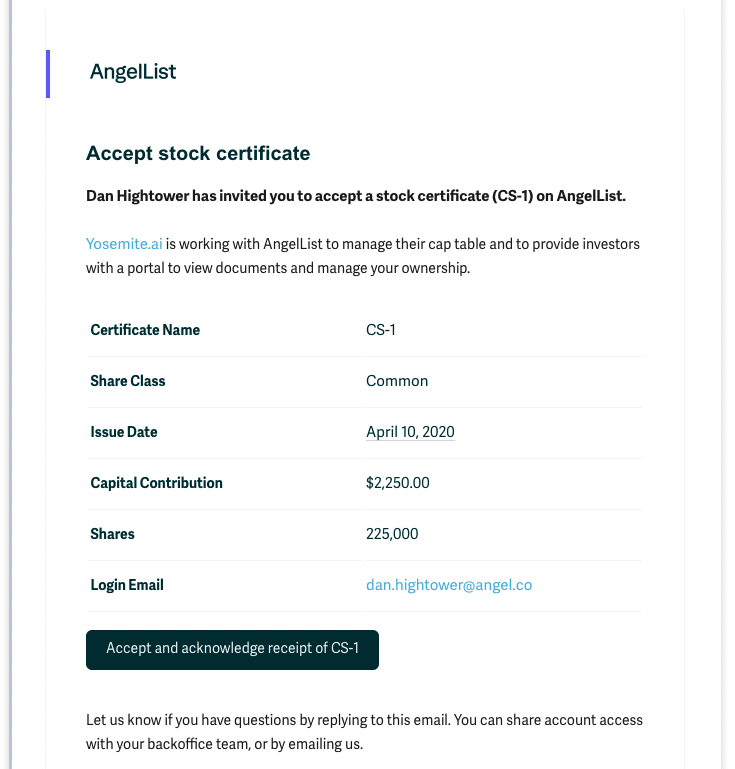 Contact startups@angellist.com if you believe they were supposed to receive an email but didn't.
After logging in, if the stakeholder has securities in multiple companies on AngelList, they will see a page where they can switch between entities.

Once the stakeholder has accessed their dashboard, they will be able to view and manage their equity. See below for more detail on what stakeholders can do within the dashboard.
All logins for AngelList happen at stack.angellist.com/login. Once logged in there, there will be a full list of companies with which the user is associated as a founder, employee, board member, or stakeholder.
For more details about logging in, see the Dashboard page.
The stakeholder dashboard lists all of the securities held for a specific company. For each security, details shown include the exact amount invested, terms of the investment, and any underlying documents.

Each company has its own dashboard. To see securities held in another company, navigate to Your Companies > Choose Companies at the bottom of the menu.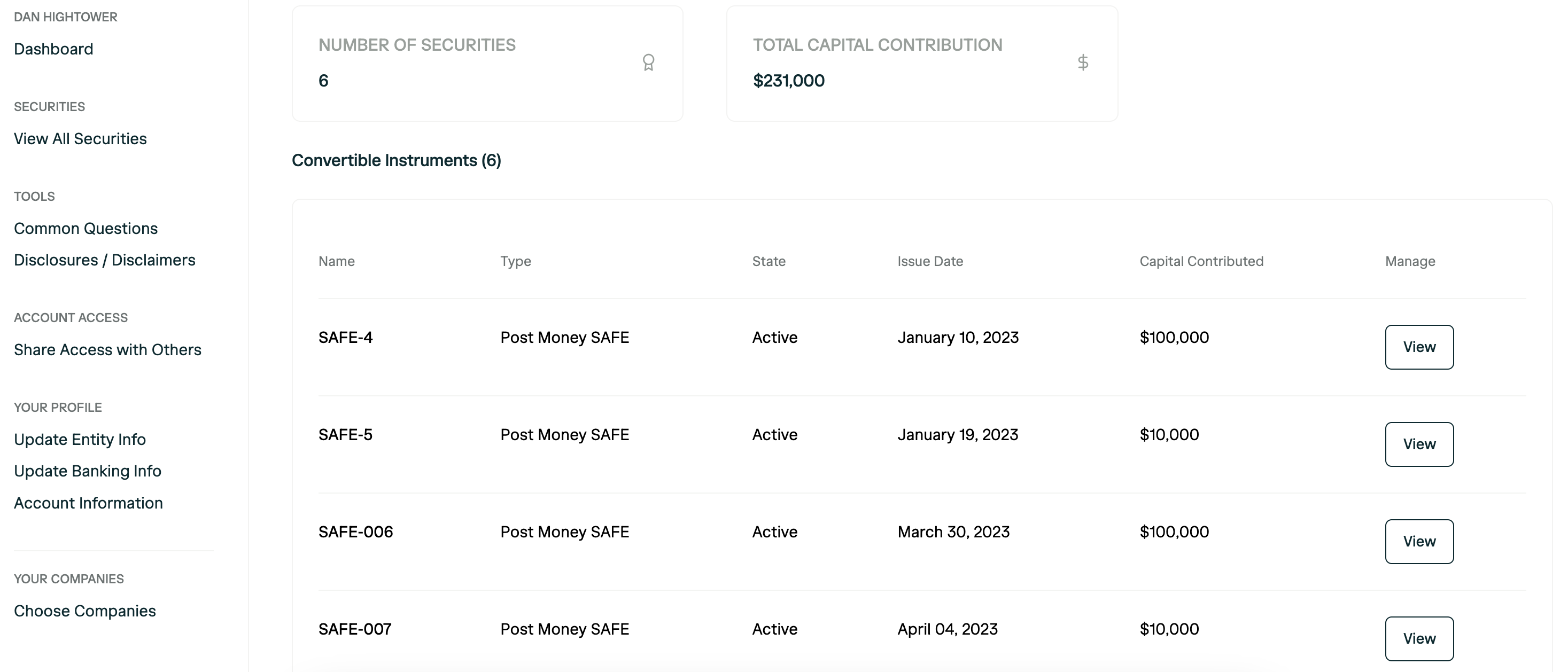 The entity address and other information can be updated at any time within the dashboard. This helps companies stay in compliance with any types of regulatory requirements on their end including Blue Sky Filings.
To update entity information, navigate to Your Profile > Update Entity Info in the menu and adjust the information in the next page.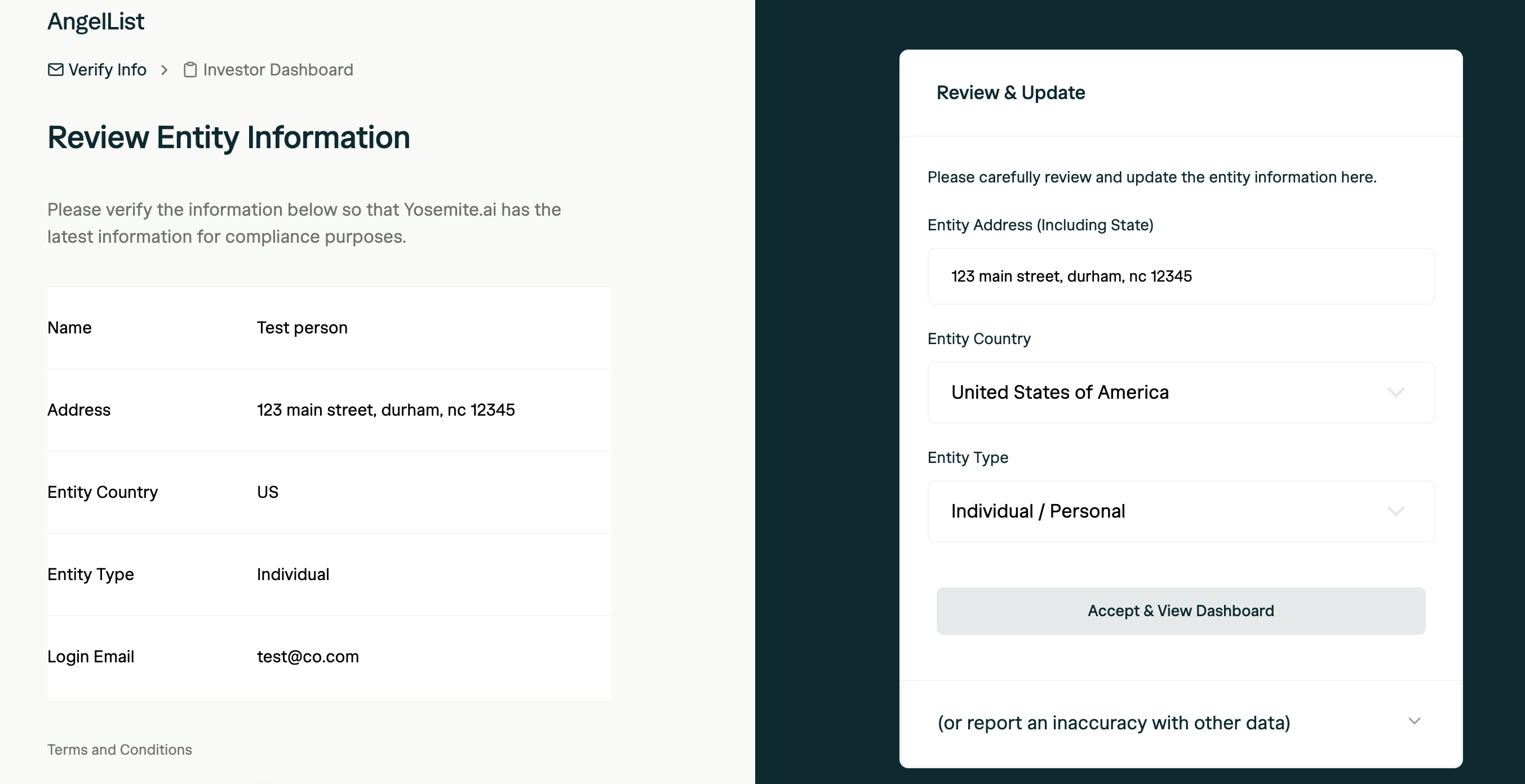 You can grant dsahboard access to investment advisors, partners, or others at any time. Once in the dashboard, use the menu to navigate to Account Access > Share Access with Others. Click Add New User to provide access.

Select the appropriate permission level for each user.