E-signing many documents at once can take a lot of time. AngelList solves this problem with bulk e-sign, which enables administrators to sign an unlimited number of documents at once.
Navigate to Legal > Signatories in AngelList. Add the signatory's name and official title.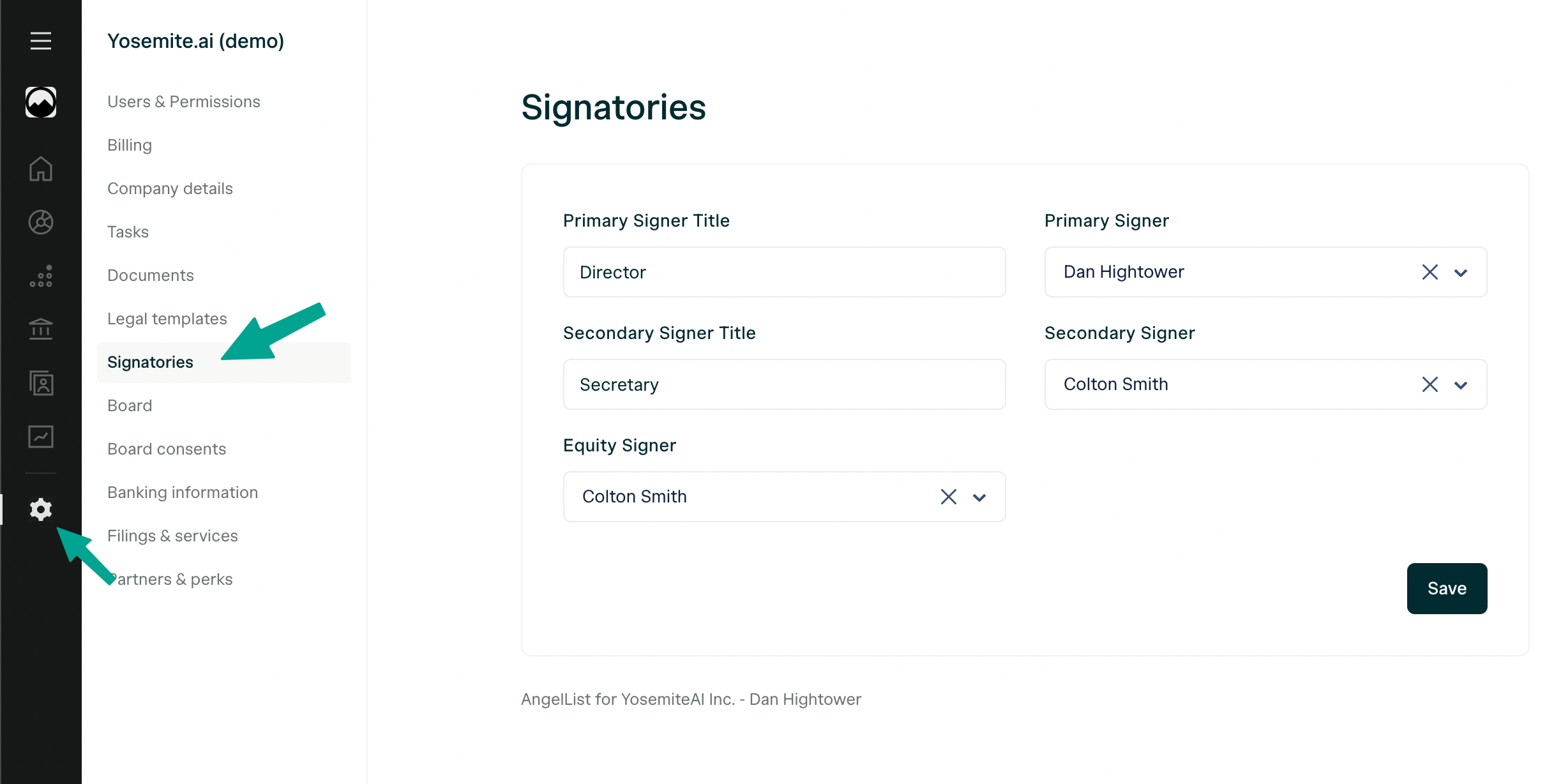 The primary and (optional) secondary signer are used as the signatories of share certificates (when using certificated share issuance).
Navigate to the grants table by going to Equity > Securities > Grants. Use the Status dropdown to select all grants that are Pending Company Signature.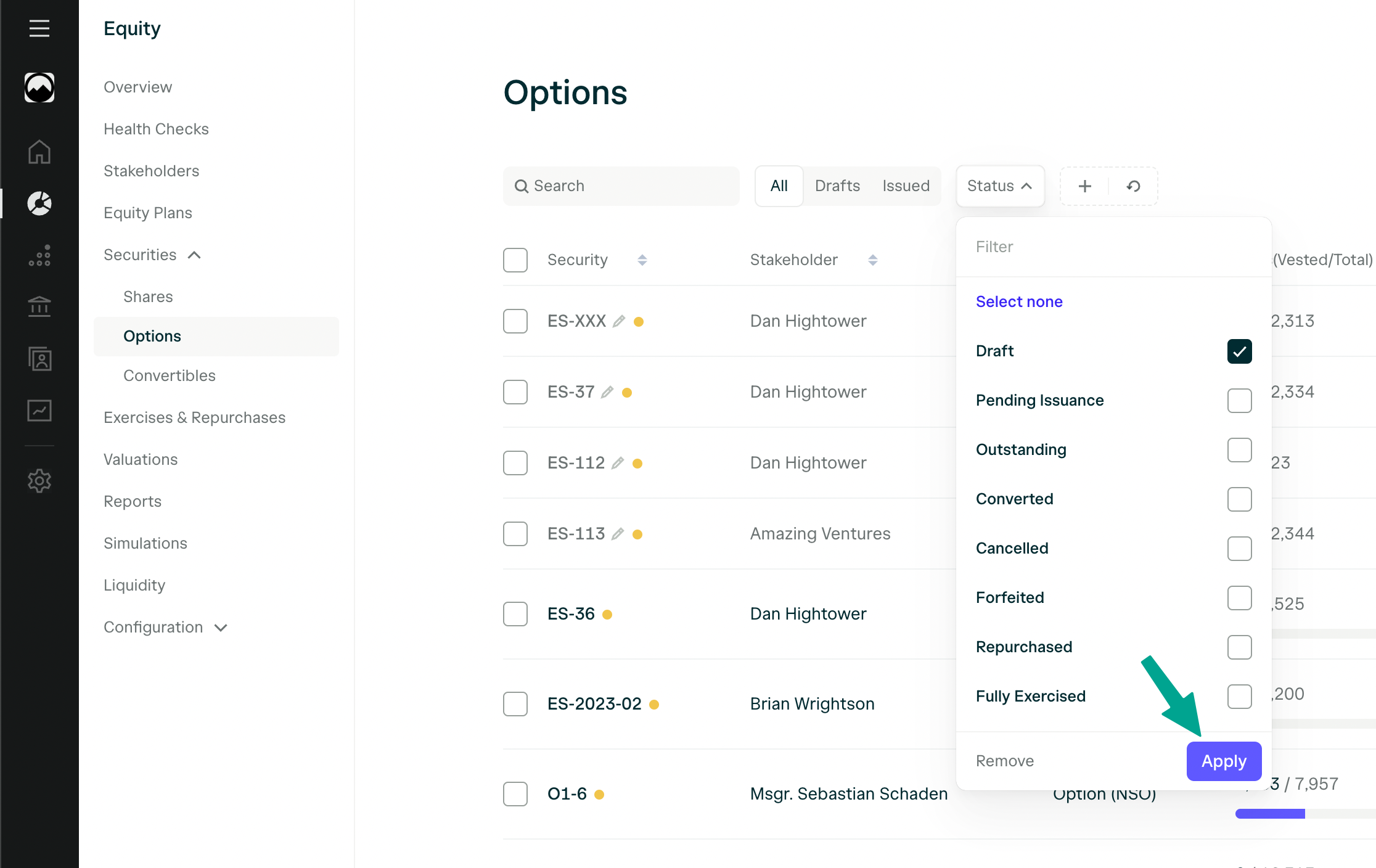 Grants in Draft state are not ready to be signed. This means they are missing required values or lack board consent. If admins attempt sign them, they will see a notification:

Once all required values are entered and board consent are present, the equity award will be "Pending Issuance", and then the admin can sign.
To streamline the board consent process (which often determines the grant date), the company can sign grants ahead of a grant date being inputted into the grant. But the recepient of the grant can't be invited to sign until there is a grant date and associated expiry date. If admins attempt to invite receipients to sign in advance of these values being present on the grant, they will see a notification: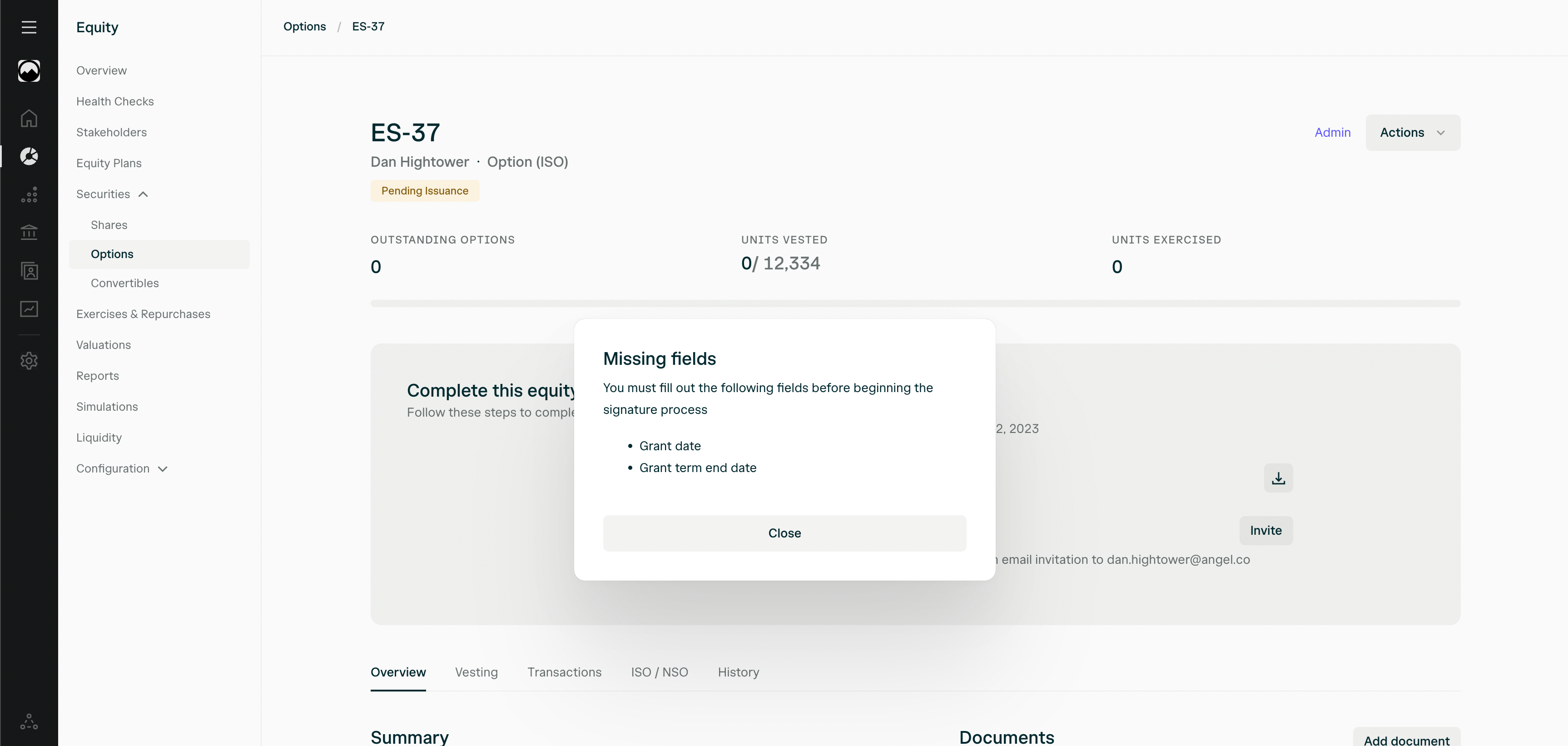 .
Once all grants are Pending Issuance, and they are multi-selected, admins can select Sign as Company from the bulk action bar at the bottom of the screen:

Fill out the form with the necessary information and consent to the terms to complete the bulk e-sign.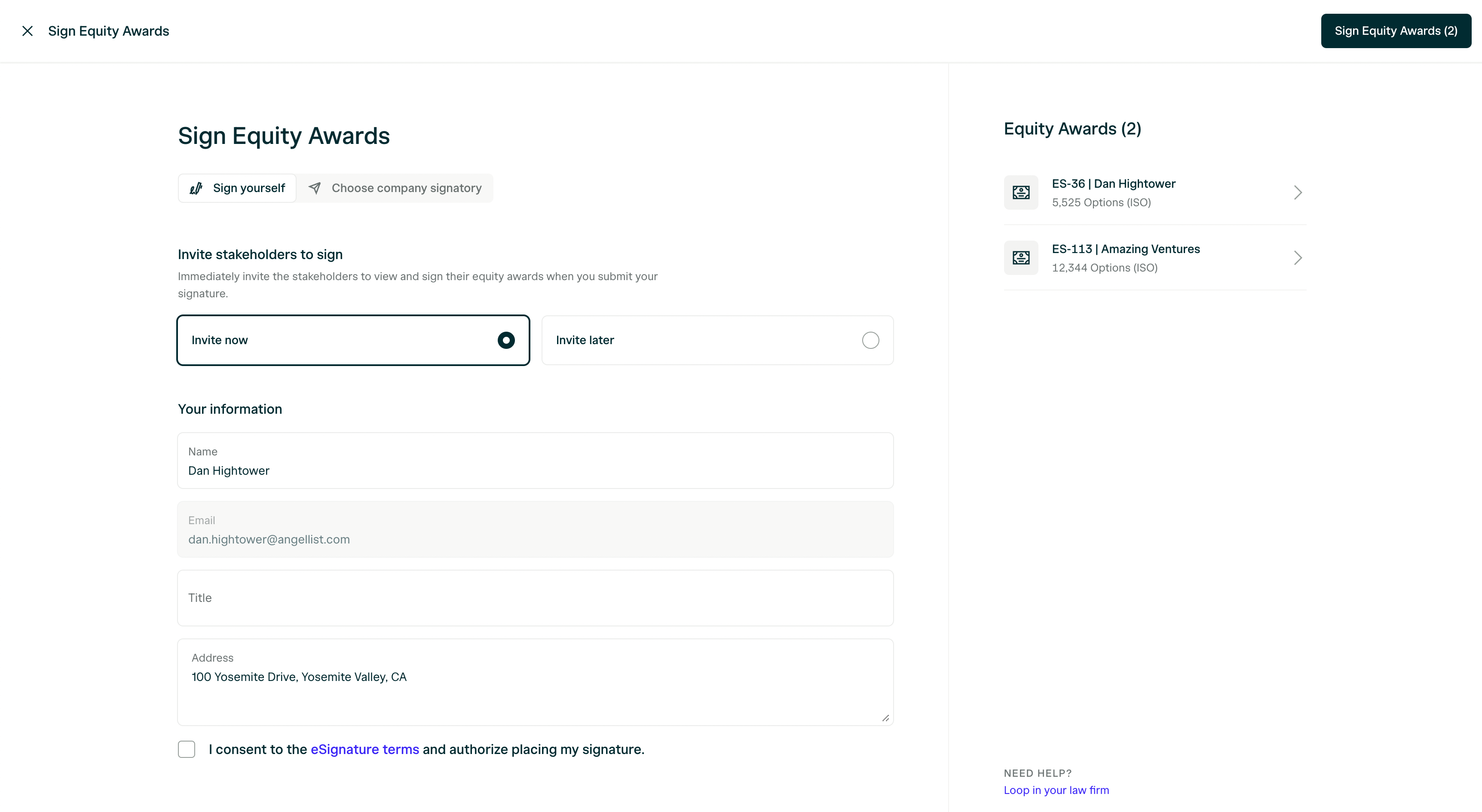 If you are not the company's signatory, you may invite the signatory to sign by selecting "Choose company signatory". They will receive an email invitation to sign the grants that you have selected:
There are two methods of identifying outstanding signatures.
You can check for outstanding signatures by filtering via the Status dropdown as seen above.
Another way to double check is via a report. Navigate to Equity > Reports, scroll down to Other Reports, and download the Grant E-Signature Report.
There are two methods for inviting recipients to sign via an email invite.
Invite button on the grant/share: Navigate to Equity > Securities > Shares or Equity Awards. Select the security that requires signature and click the Invite button in the grey box.

You can also bulk send signature invitations by checking the desired securities (you can use the Stage dropdown to filter to make it easier), then clicking Send Employee Email Invites.
To issue multiple share certificates at once, you can select multiple certificates on the Shares page and select "Issue"

If required values or board consents are missing from any selected securities, then admins will not be able to sign them. Instead, they will see a notification: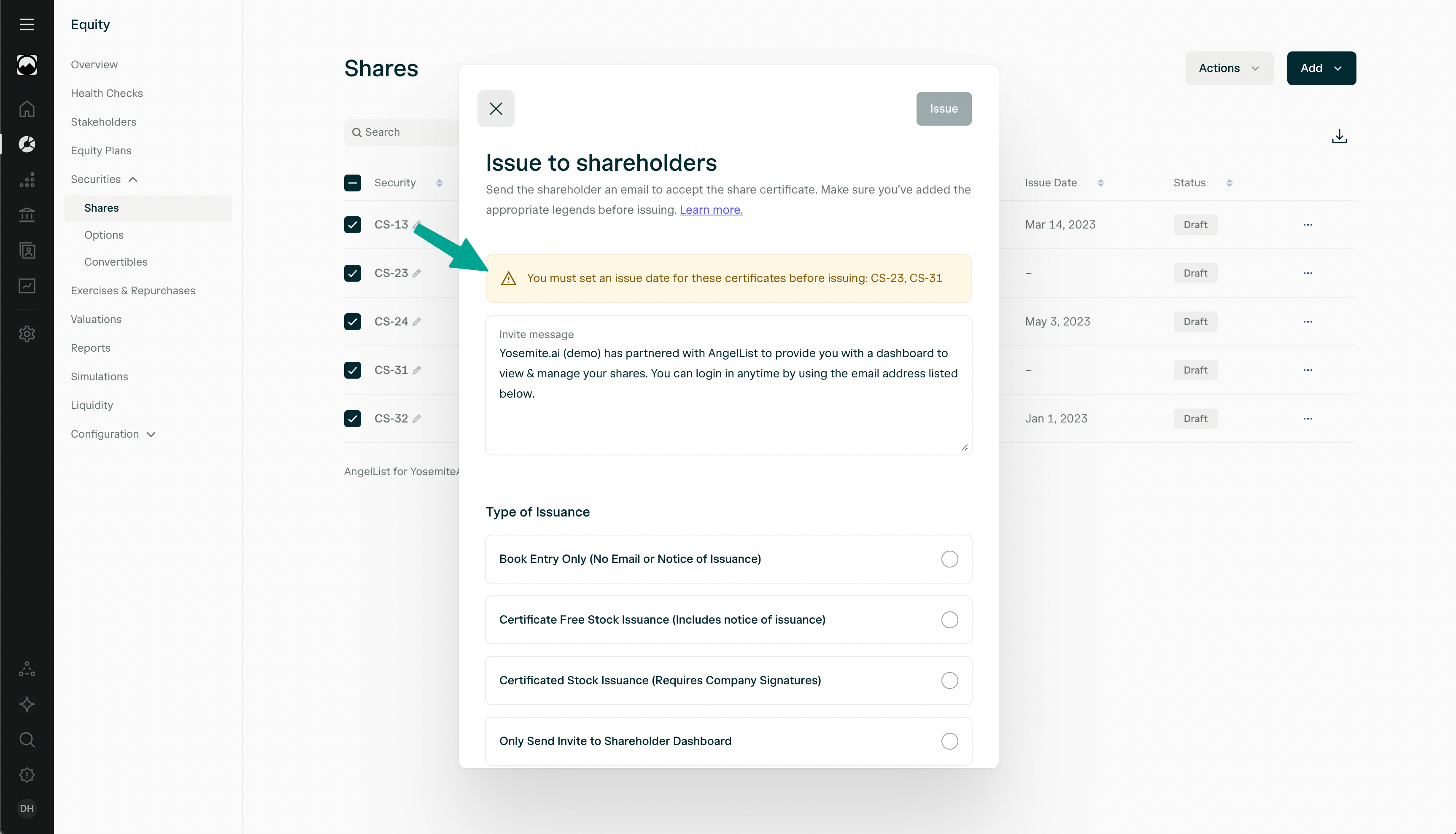 .