All deals are private and only visible to investors that have the invite link.
The deal is not published anywhere nor is it publicly accessible. The RUV product is ideal if you have investors soft-circled and ready to invest.
AngelList Venture is a platform to help fund startups, but it is not intended for founders to use directly to raise money. It is a marketplace for fund managers (or syndicate leads) and investors. People who have allocation into a company can manage their investment via the platform by raising capital from their own LPs.
If you have connections who have an LP network, they could run a syndicate on AngelList Venture to manage the raise.
AngelList does not publish your RUV anywhere. Once your RUV is live, the only people who can see it are people that you specifically invited to the RUV with invite links. This means that you need to have your investors already soft-circled.
You cannot use RUVs to generally solicit investments, which means that you cannot post links to invest (or even mention that you have a live RUV) publicly, since that could be considered general solicitation by the SEC and trigger increased reporting requirements for the RUV as well as for your company.
Unless we explicitly mention otherwise, your RUV needs to be raising privately.
Publicly marketing the RUV may not only torpedo the RUV but can also put your company into a difficult position where it now needs to conduct the rest of the fundraise under general solicitation rules.
The SEC has strict rules around how and to whom investment opportunities can be presented. Please only share the RUV invites with individuals you know are accredited and have a pre-existing substantial relationship with.
Due to general solicitation restrictions, you cannot share the RUV invite links publicly (Twitter, newsletters, press blogs, etc.) or publicly mention that you have a live RUV running. For the same reason, RUV deals are not visible on the AngelList platform and are only accessible through a private link.
If you are found to have posted the link to the RUV publically or solicited unknown investors, AngelList reserves the right to cancel your RUV.
You can invite LPs by sharing a link with them. This link takes them directly to your RUV investment page and through an expedited sign-up flow. LPs do not need to register on AngelList ahead of time and they can create an account during the investment process.
You do not need investors to be approved to invest on AngelList or pre-apply. You can just send them the invite link. Note - investors do need to confrim that they qualify as an accredited investor to view the deal page.
You can share these links over email, text, etc. You may not use these links to generally solicit investors (for example, you may not post the link on Twitter nor should you include it in a press release).
---
Here's the sequence of screens/steps that LPs see when they invest in your RUV. You can try out the flow for yourself by opening the private invite link in incognito mode in your browser.
Users have the option of creating an account or logging in to an existing account.

Once logged in, the investor will need to confirm that they are an accredited investor.

They will be taken to a page where they can review the terms of the raise, download a copy of the Closing docs, sign their docs, see your co-investor list, and read your memo or pitch deck.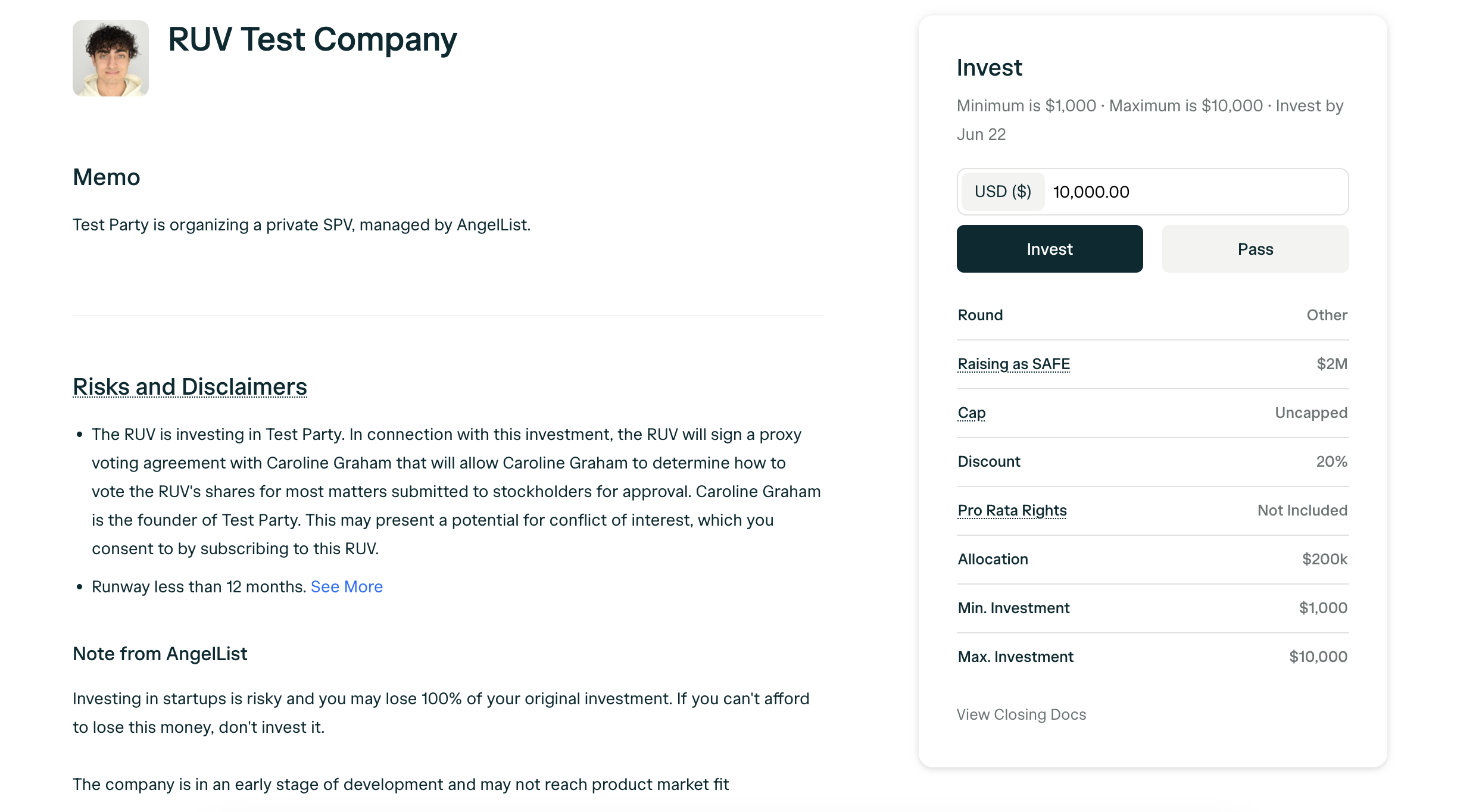 Once they click Invest, investors will be confirm investment details and be given banking information for transfering funds.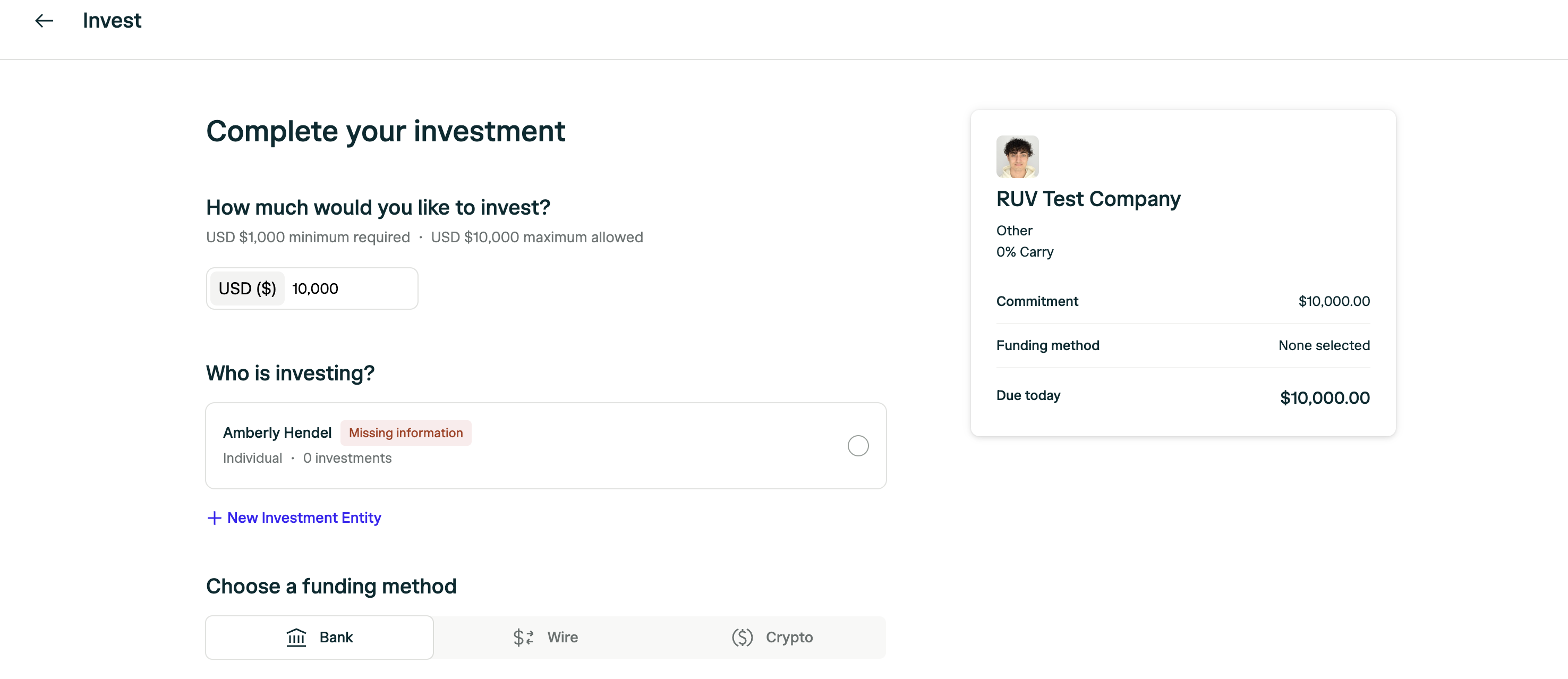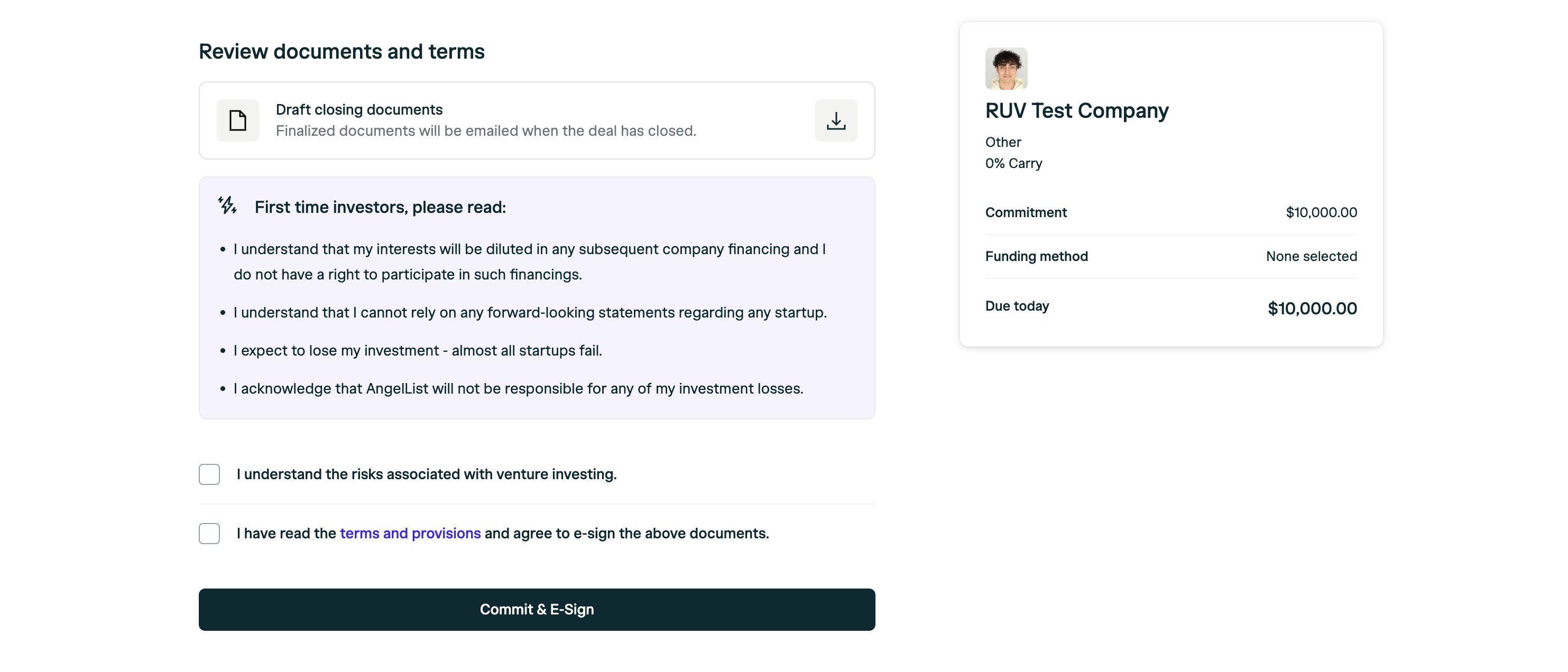 If an investor is requesting wire instructions or a wire callback, introduce them to us at invest@angellist.com.
Once an investor clicks Commit & E-sign, they will be taken to the next steps page where they will be given bank instructions, be asked to verify KYC compliance, and be asked to submit tax information.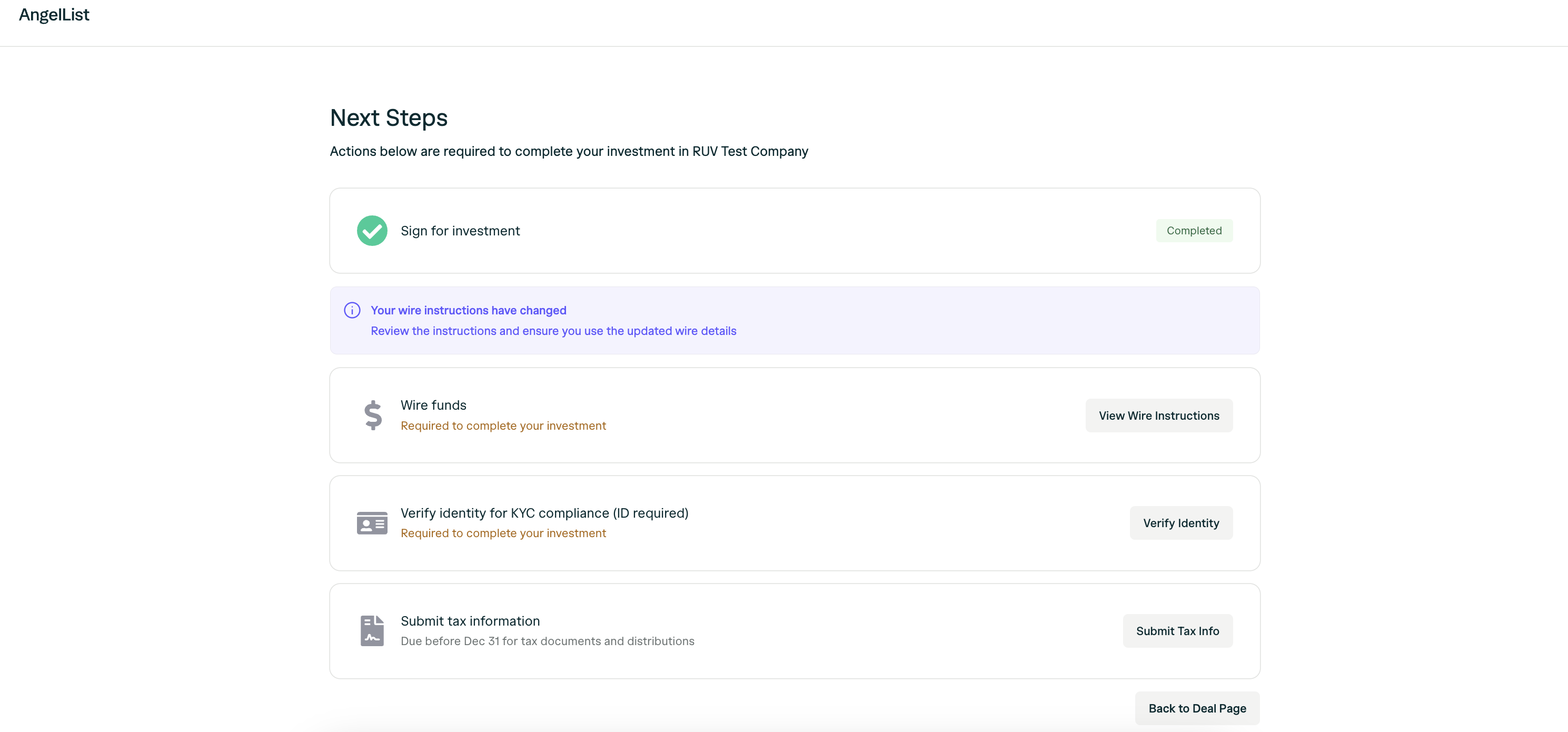 Investors will also receive a confirmation email that outlines next steps.

---
Investors in the RUV do not sign the actual investment docs (like a share purchase agreement or a SAFE), instead by closing online, they subscribe to the special purpose vehicle which is the entity that will sign the actual investment docs with the company (See the docs attached below).
AngelList will make an effort to review the documents to ensure the terms match what you described to investors before signing the documents. If there is a divergence, we may need to message LPs and provide them an opportunity to opt-out.
Investors e-sign the closing docs. We do not provide any other way for LPs to sign than through our online closing flow.
---
Investors in the RUV attest to their accreditation status by checking a box inside the investment flow.
While investors need to be accredited, they do not need to provide documents to AngelList to verify their accreditation status when investing in private RUVs. Investors are asked to verify their accreditation status with documentation when investing in RUVs that are marketed publicly or funds that are marketed publicly such as Rolling Funds.
Once an LP completes the investing flow, we automatically attempt to verify their identity using the information they provided (name, address, date of birth). We are required by law to perform these checks.
For LPs investing with an entity that fails the automatic checks, our KYC team will follow up over email asking for additional information
This check is only done once for each entity that an LP is investing with, not every time they are investing. You can track the status of an LP's KYC check in your dashboard. "Pending KYC" means the KYC check is not complete yet. No label means the KYC check is done.
---
To increase or cancel an investment before the RUV has been finalized, you may email us at invest@angellist.com.
---
No, we do not share the financing docs with investors. However, you can send them the docs if you would like through the Post Tab.
You can see what we send investors here.
---
AngelList provides prior tax year information sequentially as it becomes available:
By the end of February: AngelList will publish a summary of your investments and information about which investments will have a K-1.
By the end of March: AngelList will publish a tax package that includes either a K-1 or an estimate for all investments requiring a K-1 for the prior tax year.
After March: Tax packages that include one or more estimates, such as investments in passthrough portfolio companies, will be updated with final K-1's as outstanding tax information is received and processed.
Investors will be able to access their K-1 from their Dashboard.
---
Investors will not see how much has been raised & committed to the RUV when it is raising, nor will they see who else invested.
---
Yes, select crypto as the funding method.

Once sent, the funds should be posted within 2-3 business days.
Once received, the USDC will be converted and you will receive the enterity of your raise in USD.
---
If any of the investment terms that were disclosed to LPs change, please notify us immediately at rollups@angel.co. In some cases, the change may not be material, in other cases, it might require that we send a notice to investors.
Examples of changes that require notice to LPs and potentially opt-out:
Instrument changes
Valuation changes
Discount changes
Lead investor changes
Loss of pro-rata rights
Changing the round size or the target closing date would not require an opt-out.
An opt-out is a message we have to send to Investors if there was a material change with the terms of the deal they have committed to.
If you change the terms of the deal, we are required to send an email notifying investors of the changes and providing them with the opportunity to cancel their commitment.
Not all changes require sending an opt-out email, but many do.
Keeping your investors up to date on all the material terms of the deal is crucial to ensuring they can make informed investment decisions.
Since investors committed to the RUV invest based on the information available at the time they completed the closing flow, if that information changes, we have to offer them the opportunity to reconsider their investment.
Generally, a change is considered material if a reasonable investor is likely to think the change alters the total mix of investment information.
We will also send an opt-out even if the terms are materially better for the Investor. We want to make sure investors know the terms they are getting through the RUV.
After a change has been initiated, a member of the RUV team will reach out to you directly.
If the change was an error, we will simply ask you to change the terms back to what they were prior to the change.
If intended, we may need to send a notice. Oftentimes, founders would like the opportunity to reach out to investors directly first. The RUV team can sometimes delay sending opt-out email to allow you to do so.
The opt-out email is sent to all investors that have signed or completed their commitment.
If investors do not request to opt-out during the 48 hours window, AngelList considers their investment final.
We will send you an update once the deadline has passed to let you know if any investors decided to opt-out following the change.
---
When you set up an RUV, you can indicate your target allocation for the RUV. However, this is merely for informational purposes - the amount you raise can be more or less than that.
If you've raised more capital than what you want to have invested in the company, you can scale back LPs. There are usually two ways we see founders scale back investors:
All investors proportionally
Reducing select investors
Investors whose investment gets reduced will see any excess funds returned to their AngelList account (not their bank account). From there, investors can either withdraw funds to their bank account or apply them towards their next investment on AngelList. We will notify LPs of the refund.
We can hold off on sending them an email until you notify them yourself.
We recommend scaling back LPs in one-go at the end of the raise when you have certainty around the final allocation.
---
We've seen million dollar checks come in through a RUV. However, if the RUV is raising more than $10M the number of accredited investors goes down to 99.
RUVs require a minimum of 2 investors in the vehicle and the minimum check size is $1,000.
---
Yes! Please note that if there are two or more RUVs set up within a certain time frame (typically 6 months), we would still have to apply the 250 investor limit across both vehicles.
---
506(b) Guidelines:
For 506(b) funds, you must not engage in any practice which might be viewed as "general solicitation" or "general advertising" of partnership interests in your fund.
506(c) Guidelines:
Unlike their 506(b) counterparts, 506(c) funds may engage in general solicitation. Most Rolling Funds are 506(c) funds.
As with any fund advertisements, it is crucial that these general solicitations are not misleading or inaccurate in any aspect.
506(c) funds allow the issuer to generally solicit but also require additional steps to verify the accreditation status of the investors.
AngelList will handle the additional verification steps on the platform.
---
There is no precise definition of general solicitation.
Things like newspaper, radio, or internet ads or mentioning your fund at a seminar or meetings where the audience was invited via a general solicitation would be considered a general solicitation.
To avoid general solicitation, you should refrain from advertising or publicizing in venues that include people you do not personally know.
To determine if a social media post, email, etc., is a general solicitation, we consider:
Is the communication to a widespread and anonymous audience?
Does it constitute an "offer" (i.e., does it contain a link to invest or a specific call to action)?
General solicitation can be deemed to occur if the speaker is considered to be "priming the market."
Broadly, communications to people with whom you have substantial, pre-existing relationships wouldn't be considered general solicitation.
For example, messaging your syndicate backers on the AngelList platform or pitching your fund to your personal network would not be general solicitation.
Additionally, unsolicited media reports on your fund, provided that you made no comment or statement to the media, would likely not be considered general solicitation.
---
When it comes time to close the RUV, you will send us a standard YC SAFE with the same terms as the ones disclosed to investors.
You can generate this for free here: safe.new
If you are not using a standard YC SAFE, or are using a slightly modified SAFE, you must disclose this to investors in the Risks and Disclosures section of your Dashboard.
Here is an example of what you could write:
Important terms: Please note that the SAFE you are signing is a modified version of the YC standard SAFE. They are NOT the same, you can find the modified SAFE that we are using here. Redlines are available here.
If a Pro-Rata side letter, Proxy Letter, or Tax Rep Letter is required, we will provide them to you. If you want to use your own side letters or want the RUV to sign any additional side letters, we will have to have them reviewed internally.
Side letter reviews will cost an additional $2.5k. These fees will be added to your final invoice.