When you are ready to submit your RUV application, go to ruv.new
Most private venture backed companies incorporated in the US, Canada, Cayman Islands, or Singapore.
If your RUV is investing into a company that is incorporated outside the US, residents and citizens of that country cannot invest in your RUV. Additionally, all investors must pass their local and US KYC & Accreditation requirements.
| Company Jurisdiction | | | Who can Invest? |
| --- | --- | --- | --- |
| U.S. | 🇺🇸 | | Anyone |
| UK | 🇬🇧 | | Anyone except residents or citizens of that country |
| Canada | 🇨🇦 | | Anyone (except Canadian investors) |
| Cayman Islands | 🇰🇾 | | Anyone except residents or citizens of that country |
| Singapore | 🇸🇬 | | Anyone except residents or citizens of that country |
Companies incorporated outside the US, Canada, Cayman Islands, and Singapore. We are able to make exceptions for certain countries (subject to different pricing)
Investments described as following a pure private equity strategy rather than a venture capital strategy
LLCs

Some exceptions may be possible on a case by case basis

Crypto tokens and certain forms of hybrid crypto and equity instruments

Depending on the terms of the warrant, we can occasionally support them

Secondaries
Investing in other venture funds
Other product offerings on the AngelList platform may be able to support these companies.
The founders or key people associated with the company cannot be a "bad actor" pursuant to SEC and AML standards.
If the RUV is raising less than $10M - up to 250 investors and a minimum of 2 investors.
If the RUV is raising more than $10M - up to 99 investors and a minimum of 2 investors.
For regulatory reasons, any RUV needs to have at least 2 LPs. Raising from just one investor would not make it a pooled vehicle. We also usually reserve 3 spots in case an LP needs to split their investment (due to divorce, death, etc.), so the practical limits are 247 and 96 LPs, respectively.
RUVs must raise a minimum of $40k in order to close. Any amount over $40k, whether it meets the allocation written on the RUV deal page or not, can close.
---
If your RUV is investing into a company that is incorporated outside of the US, residents and citizens of that country cannot invest in your RUV. Additionally, international investors must pass local and US KYC & Accreditation requirements.
| Company Jurisdiction | | | Who can Invest? |
| --- | --- | --- | --- |
| U.S. | 🇺🇸 | | Anyone |
| Canada | 🇨🇦 | | Anyone except residents or citizens of Canada. Canadian investors can invest when specific criteria are met (the criteria are at the company level). Contact us to confirm if you qualify. |
| Cayman Islands | 🇰🇾 | | Anyone except residents or citizens of that country |
| Singapore | 🇸🇬 | | Anyone except residents or citizens of that country |
---
Submit a setup form ruv.new. This involves sharing the company's legal name and the round terms.
We review your information to see if we can support your company and create your dashboard.
We approve the RUV, which means you can start inviting your investors through invite links and add a deal memo.
You invite your investors by sharing the invite links with them.
We collect all funds & perform a KYC check on each investor.
You track all of that in your dashboard (which investors have signed, whose wire is pending, etc). AngelList follows up with investors for information if necessary.
Once you want to close, click the "Ready to Close" button on your deal page and send the investment documents to rollups@angel.co.
AngelList signs the investment docs, wires the money to the company, and finalizes the RUV.
---
Foreign companies need to make tax representations (PFIC & CFC) & sign a side letter with the fund.
In an attempt to tax income generated abroad and fight tax evasion, the IRS enacted several rules that US taxpayers, or US incorporated funds for that purpose, are subject to. Two of those rules are particularly important for your RUVs - the Passive Foreign Investment Company taxation regime ("PFIC") and the Controlled Foreign Corporation status ("CFC").
In order for your RUV to file its taxes correctly and for your investors to file their taxes correctly, we need to know:
Whether the company you're investing in is a PFIC or a CFC;
Once the company becomes a PFIC or CFC;
Certain additional information for tax returns, should the company be a PFIC or CFC
Sometimes companies will make representations about their PFIC/CFC status in their main investment docs (usually in the "Investor Rights Agreement"). If not, we can capture these representations via our standard tax side letter:
Founder GuideBook Tax Reps example.pdf
Your signature is only required on Page 3. The company does not need to fill out the Exhibit.
In short, by signing the letter, the company represents that it is neither majority-owned by US persons and that they don't earn a majority of their income from rent or interest (i.e. aren't a passive income generating company). The second part of the document lays out what they would need to report if they ever became a 'passive foreign investment company'.
Please note the fees for international companies
---
Once we have all of the information we need and have confirmed we are able to run your RUV, we can typically make your dashboard live within 2 business days.
---
When closing, we will need the investment docs to review & sign.
Investors in the RUV are not signing the investment docs when they commit to the RUV. Instead, they are electronically signing documents that subscribe them to a special purpose vehicle ("SPV"). You can see an overview see a sample set of the docs in the following sections.
Investors electronically (through the platform flow) sign documents that subscribe them to a special purpose vehicle (the RUV). This closing packet consists of:
The (RUV) Partnership Agreement - This is where the parties establish respective rights and obligations to the fund, as well as the rules, processes, and procedures that shall govern the business and affairs of the fund.
The (RUV) Subscription Agreement and Privacy Notice - This document outlines the mechanics that surround the flow of funds to the RUV.
The Private Placement Memorandum (PPM) - The PPM describes the terms of the offering, details about the investment vehicle, and the risks of the investment, among other things.
You can use our free tool to generate your SAFE here.
---
You can see the terms of the deal you set for investors in the RUV section of your round under RUV summary.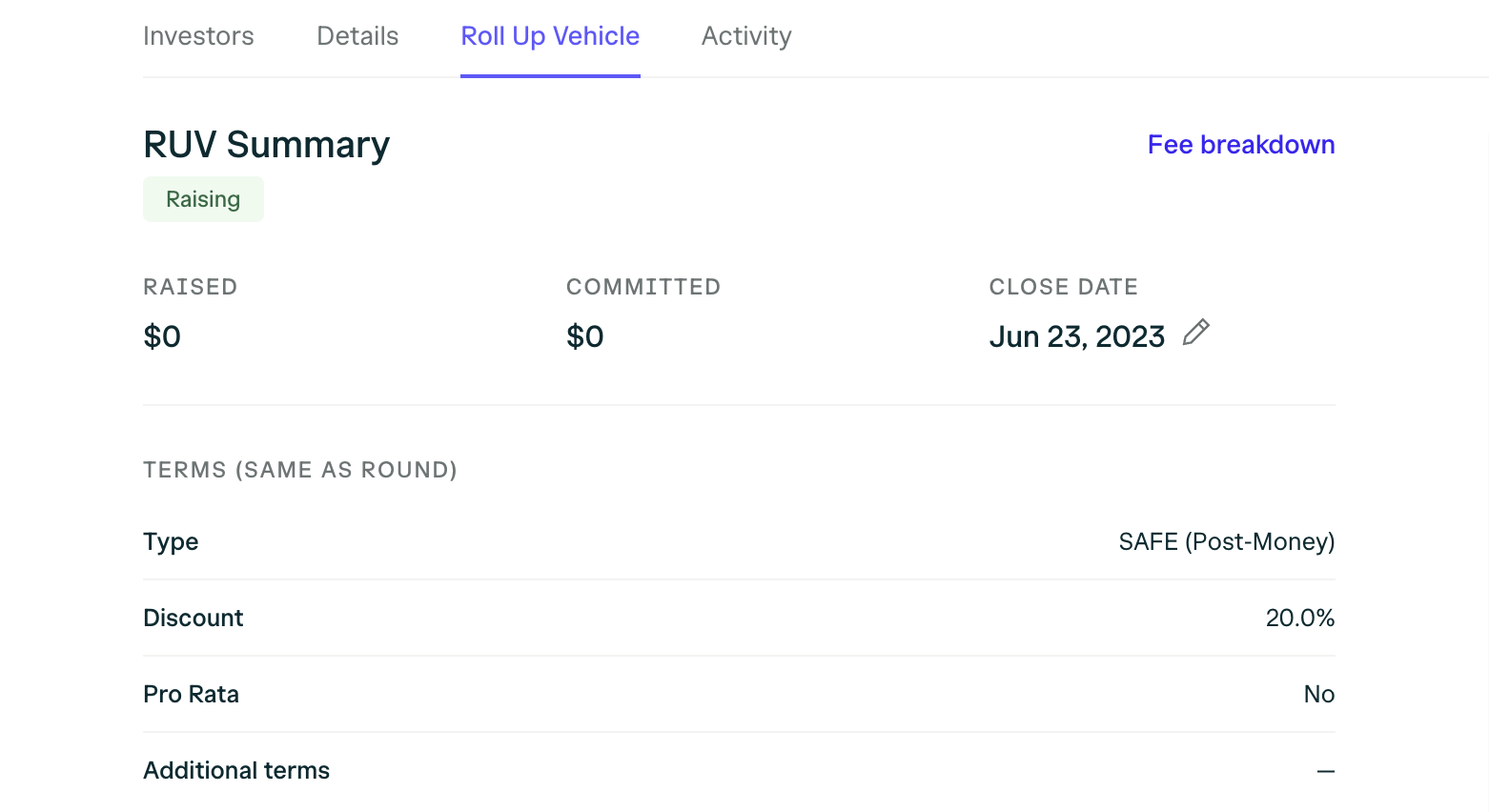 You can make changes to your RUV terms at any point during the raise by clicking the pencil icon next to the close date or clicking Customize RUV.
Editing the RUV will adjust your Raise round terms and vise versa. Additionally, some changes might require an Opt-out.
If for any reason you need to make changes to your company information while your RUV is open, please reach out to rollups@angel.co.
You can list all of your co-investors and the amount they invested in the round. Note - all investors added to this list must be investing on the same terms as this RUV. If this is not the case, do not add the co-investor to this list.

Share a note with investors about the company and the round. We also recommend adding a pitch deck. Here is a template you can use.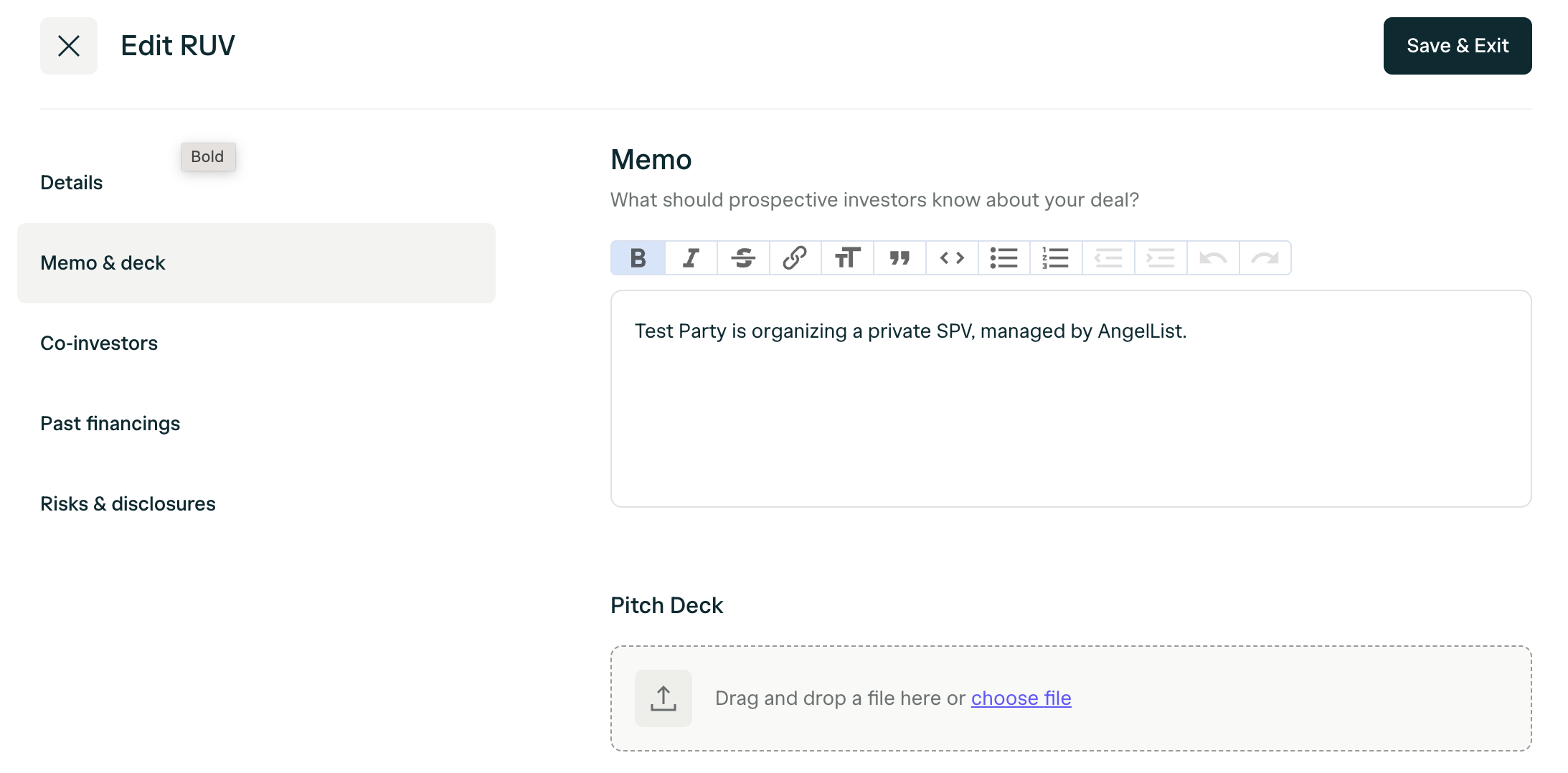 Adding a Memo during the application process will help us expedite the review.
This should not be removed as this is a requirement from our legal team. However, you are free to add more Risk disclosure that are more specific to your company. Here is an example:
Risks
Investing in startups is risky, you may lose 100% of your original investment. If you can't afford to lose this money, don't invest it. The company is in an early stage of maturity.
The company is selling to enterprises. Sales cycles can be longer than expected. Customers may be reluctant to switch.
The company is operating in a very competitive space.
There are significant technical challenges associated with the company's products.
The company needs to make several key hires. If it cannot successfully fill these positions, the company may not reach its growth targets.
The company has to navigate complex compliance areas (e.g. data privacy). Mistakes here can be costly.
Other disclosures is where we disclose that we will proxy the voting rights to an employee of the company.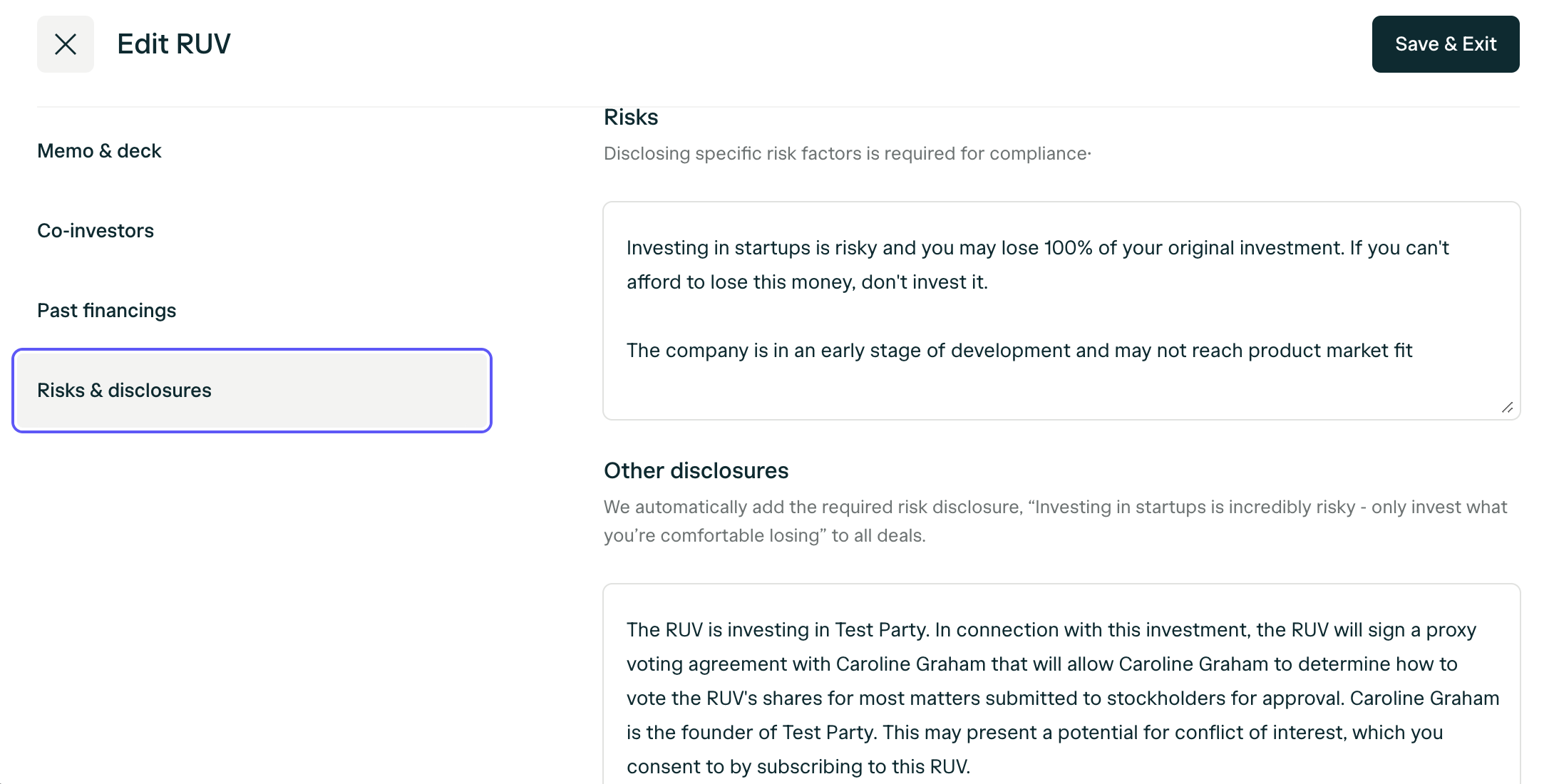 We cannot Proxy back the voting rights to investors in the RUV. Only an employee of the company can hold voting rights.
---
---
The proxy gives you the right to vote on behalf of the entire RUV for non Material matters (see a definition of "Material Matter" in the proxy).
Material matters can generally be separated into two categories:
1- Anything impacting the rights privileges and responsibilities of the stockholders. Ex: If the preferred stocks investors acquire come with certain rights and there is an instance where they could potentially lose these rights.
2-Any changes to the company. An example would be IPO, merger or major corporate restructuring (the company splitting off or rolling into another entity).
Below is a sample of the Proxy.
---
Click the Edit button at the top of the page to copy the link you can share with investors. There are three pre-set links for default investment minimums and maximums. If you'd like to set a custom investment minimum and maximum, click the Create New Link.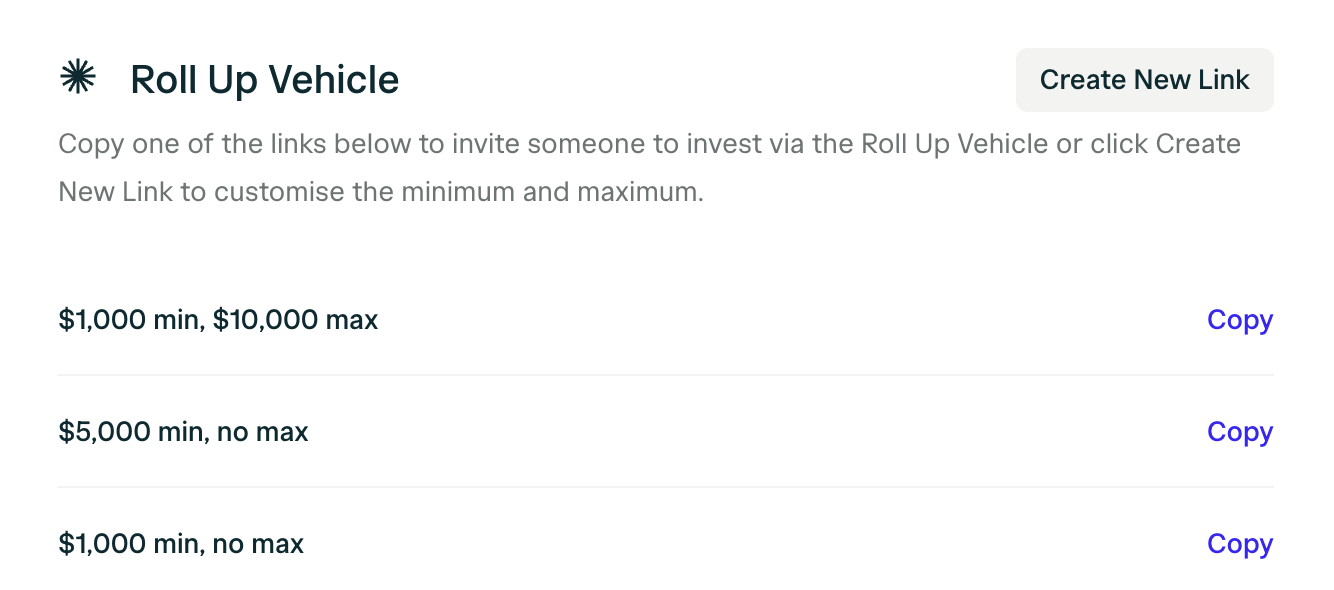 To preview what your investors might see, copy and paste the invite link into your browser. Click that you are an accredited investor to be taken to the investment page.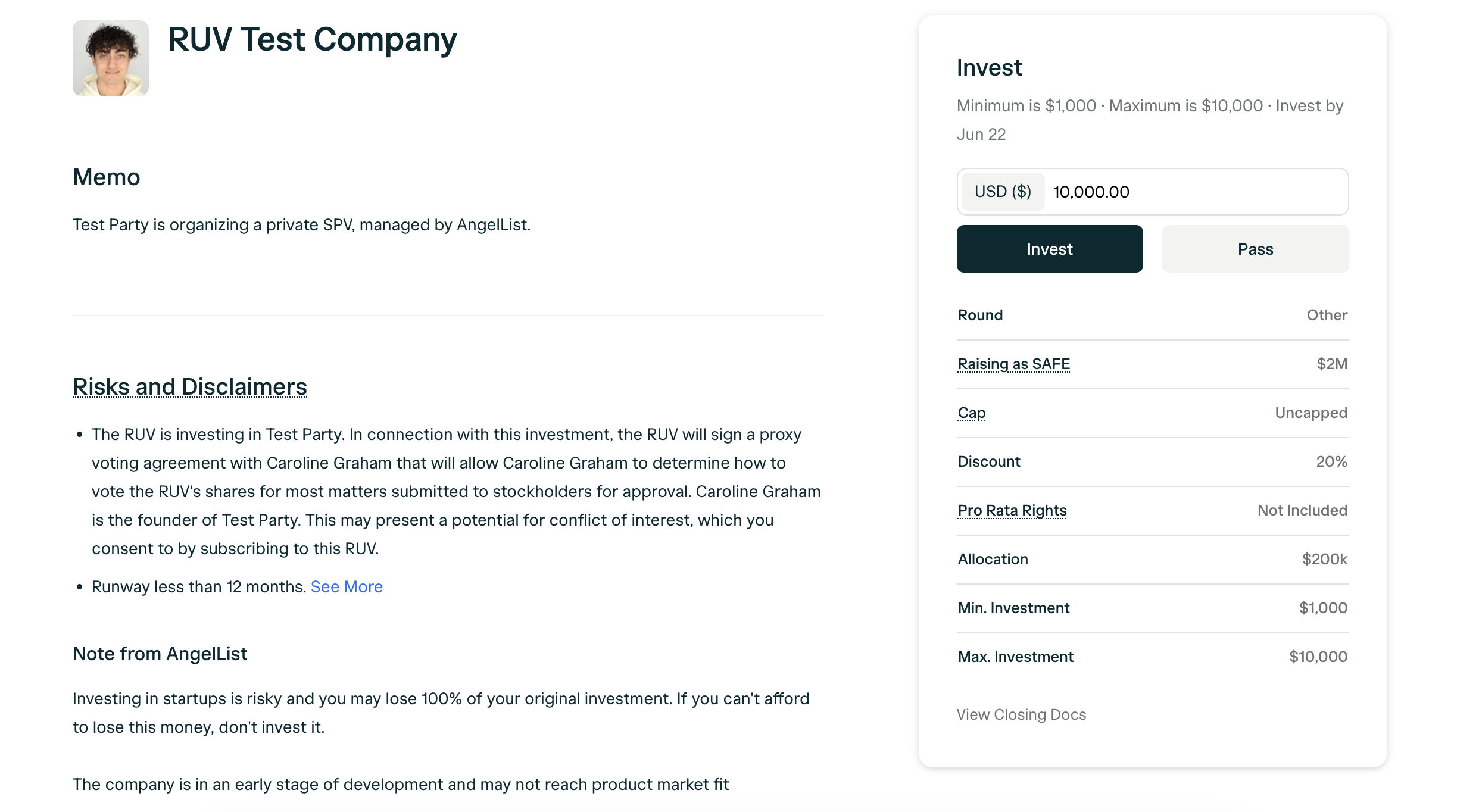 Don't worry, the invite links are not broken. You can read more about this here.
---
This is how much has been received from the investor that have gone through the flow. We will hold these funds in escrow until we are ready to close the RUV.
This is how much investors have signed and committed to the RUV.
This is how much of the round was allocated to the RUV. You can change this amount at any point during the raise here.
Here you will see a list of all the investors you have invited to your Syndicate.
These are all the investors that have received and clicked the link to your RUV. The investors in this category can choose to invest or pass on the opportunity.
These are the investors that have e-signed the docs. If investors are in this stage, this means that there are action items pending on their end.
Once we've received the investors commitment and they have completed KYC, they will automatically be moved to the Completed column.
Investors who have Passed on the investment opportunity will be moved to this column.
The investors that have requested to cancel their investment in the RUV, or that you have requested we remove, will be moved here.
You Click on the name of the LP to see their email and the link they've used.
You can download the RUV closing docs here. Once the RUV is finalized the fully executed docs will be available for download here.
Investors are able to access these fully executed docs and investment certificate by navigating to their investor Dashboard
---
You can grant team members access in the dashboard permissions.
Capital gains are taxed in the recipient's country of tax residence. Investors are investing in a US partnership and will receive a schedule K-1 for the initial year of investment and each subsequent year to the extent there is income or loss to report.
Help Center Articles that may be useful:
We always recommend that foreign investors have access to a US tax advisor, as we are not authorized to provide tax advice in the event they do not understand how they should report income earned on the platform.
---
No-fee RUVs are available for companies who have their cap table on AngelList Build's Growth Plan. The only cost you will be responsible for are the Blue Sky filing costs (typically than less $1k) which we will file, pay on your behalf, and invoice you for once the RUV is finalized.
Sign up for access to Build here.
| Plan | Cost | Who is Eligible |
| --- | --- | --- |
| No-Fee | Only pay Blue Sky State Costs | Available for select companies or companies on AngelList Stack |
| Standard | A one time set up fee of $8k | Delaware C-corps or PBCs raising on a SAFE or doing a priced round |
| Custom | A one time set up fees of $10.5k | For non-Delaware C-corps, LLCs, or companies raising on debt instrument companies |
| International | Starting at $8k for some international companies | All international companies we support |
In addition to the fees, we will also pass through state regulatory fees called Blue Sky Filing Fees.
In some cases, companies with active RUVs can move their cap table to AngelList Build. Reach out to our team at rollups@angel.co to find out if you qualify.
State and provincial regulatory filings are required by securities regulators in the US and Canada. In the US, state regulatory fees are known as blue sky filing costs.

These regulatory fees vary based on the geographic makeup of investors in the RUV. The total median fee is around $1,000, but can range up to $4k.

Not paid to AngelList. AngelList collects these fees and pays them to the state security regulators to cover the cost of the required notice filings.

States and provinces may increase their regulatory fees year-to-year.
Blue sky laws differ from state to state, so the fees will vary depending on the geographic makeup of investors in the RUV. We've included a breakdown of state-by-state blue sky filing costs at the bottom of this article. Canadian filing fees are similar, varying province-by-province.
We calculate the fee for each investor in your RUV based on where their investing entity is located. This means the filing fees increase with each additional investor, and the cost for each investor will vary depending on the location of their investing entity.
Blue sky laws are state-level regulations intended to protect investors against securities fraud by requiring certain securities issuers (e.g., funds) to register and disclose the specifics of the security offering. Most of our RUV offerings qualify for blue sky law exemptions, but do not bypass state filings. To learn more about blue sky laws, read our Education Center article.
Unless stated otherwise, the filing fee is charged if any investors from that state or province invests in the RUV.
In addition to the filing fees required by the state regulators, there is a $160 system use fee for the EFD system.
State/Province
Regulatory Filing Fees
Alabama
$300
Alaska
$600
Arizona
No filing required
Arkansas
0.1% of the total aggregate offering price, capped at $2k with a minimum fee of $100.
California
$300
Colorado
No filing required
Connecticut
$150
Delaware
0.5% of the total aggregate offering price, capped at $1k with a minimum fee of $200.
Washington D.C.
No filing required
Florida
No filing required
Georgia
If the RUV has 10+ Georgia LPs, the total filing fee is $250. Otherwise, there's no fee.
Hawaii
$100
Idaho
If the RUV has 10+ Idaho LPs, the total filing fee is $50. Otherwise, there's no fee.
Illinois
No filing required
Indiana
No fee
Iowa
No filing required
Kansas
If the RUV has 10+ Kansas LPs, the total filing fee is $250. Otherwise, there's no fee.
Kentucky
$250
Louisiana
$300

Maine

If the RUV has 10+ Maine LPs and the aggregate offering price is less than $1M, the filing fee is $300

If the RUV has 10+ Maine LPs and the aggregate offering price is greater than $1M, the filing fee is $1k If the RUV doesn't meet any of the above criteria, there's no filing fee.

Maryland
$100
Massachusetts
If the RUV has 10+ Massachusetts LPs and the aggregate offer price is less than $500k, the filing fee is $150 If the RUV has 10+ Massachusetts LPs and the aggregate offer price is between $500k - $2M, the filing fee is $250 If the RUV has 10+ Massachusetts LPs and the aggregate offering price is between $2M - $7.5M, the filing fee is $500 If the RUV has 10+ Massachusetts LPs and the aggregate offering price is greater than $7.5M, the filing fee is $750 If the SPV doesn't meet any of the above criteria, there's no filing fee.
Michigan
If the RUV has 10+ Michigan LPs, the total filing fee is $100. Otherwise, there's no fee.
Minnesota
0.1% of the total aggregate offering price, capped at $300 with a minimum of $100
Mississippi
No filing required
Missouri
If the RUV has 10+ Missouri LPs, the total filing fee is $100. Otherwise, there's no fee
Montana
If the RUV has 10+ Montana LPs and the aggregate offering price is greater than $100k, the total filing fee is $200 for the first $100k, plus 0.1% of any excess over $100k. This fee is capped at $1k.
Nebraska
No filing required
Nevada
No filing required
New Hampshire
$500
New Jersey
If the RUV has 10+ New Jersey LPs, the total filing fee is $500. Otherwise, there's no fee.
New Mexico
$350
New York
If the total aggregate offering price is less than or equal to $500k, the filing fee is $300. If the total aggregate offering price is greater than $500k, the filing fee is $1,200.
North Carolina
$350
North Dakota
$100
Ohio
$100
Oklahoma
$250
Oregon
No filing required
Pennsylvania
$525
Puerto Rico
0.2% of the total aggregate offering price, capped at $1,500 with a minimum of $350
Rhode Island
If the RUV has 10+ Rhode Island LPs, the total filing fee is $300. Otherwise, there's no fee.
South Carolina
If the RUV has 10+ South Carolina LPs, the total filing fee is $300. Otherwise, there's no fee.
South Dakota
If the RUV has 10+ South Dakota LPs, the total filing fee is $250. Otherwise, there's no fee.
Tennessee
If the RUV is 506(c), there is a $500 filing fee. Otherwise, there's no fee.
Texas
No filing required
Utah
No filing required
Vermont
If the SPV has 10+ Rhode Island LPs, the total filing fee is $600. Otherwise, there's no fee.
Virginia
$250
Washington
No filing required
West Virginia
0.000625% of the total aggregate offering price, capped at $1,800 with a minimum of $60
Wisconsin
$200
Wyoming
$200
Alberta
341.25 CAD
British Columbia
200 CAD
Manitoba
No filing required
New Brunswick
603.75 CAD
Newfoundland and Labrador
No filing required
Northwest Territories
No filing required
Nova Scotia
266.33 CAD
Nunavut
No filing required
Ontario
500 CAD
Prince Edward Island
No filing required
Quebec
552.30 CAD
Saskatchewan
1155 CAD
Yukon
No filing required
Table updated: 7/14/22
---
Once the RUV is Finalized, typically 1-2 weeks after we close, you will receive an email with an invoice and wire instructions
---
Here are the articles in this section: